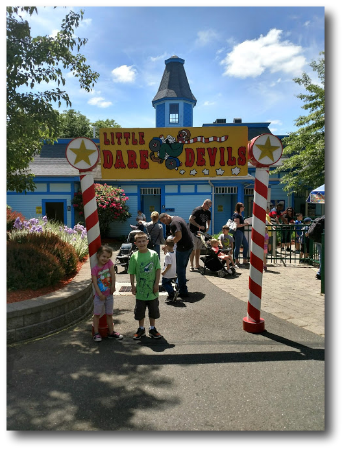 Did you know Lake Compounce is celebrating its 172nd season? It is the Premier Family Theme Park & Waterpark in New England and the oldest continuously operating amusement park in North America. I had no idea that it had been open this long (and why have I never been?). Located in Bristol, Connecticut, Lake Compounce is close to most New England locations! We took a drive with my amusement park obsessed family not knowing what to expect of an almost two hundred year old park!
First of all I'm going to save you some time. If you are putting the driving directions in your GPS you need to enter 186 Enterprise Drive, Bristol, CT. If you just enter Lake Compounce you are in for some extra driving and a nice chat with the guy in the shipping department. They are ready for this and have handy little papers with the correct address, as we found out the hard way. So program that address in and you are good to go!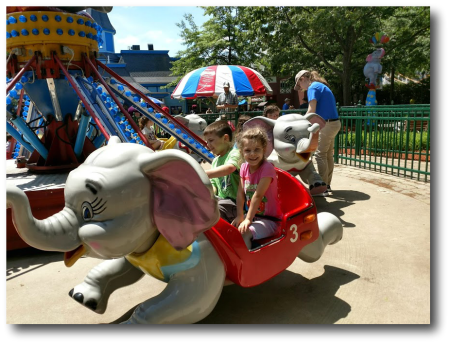 Once you arrive you pay for parking, starting at 12$, and it's a short walk to the entrance. Having your tickets printed out and ready will save you a little bit of time here. Once you're in you are ready to explore! We hit up the classic kids ride area first. My daughter realized she was a fan of the kiddie coaster and rode it six times… in a row! They also have a drum ride (think teacups), elephants and of course the classic carousel (another one we rode repeatedly). These classic rides are well maintained and the kids loved them.
My Monster and his dad were ready for something bigger though. While they took off to explore the larger coasters, Lovebug and I took a train around the lake. It was really cute and gave you some of the history of the park. It makes a quick stop in their expansive picnic area (that can be rented out for large groups) and then back to the main entrance. It was really cute and a nice little break. We grabbed some lunch at Pink's! Gotta love the classic hot dogs!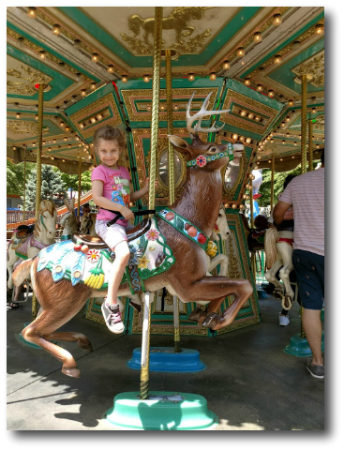 Our favorite ride by far was the Sawmill Plunge! It's the classic log ride I remember from my childhood. We waited in a little line, not bad by any means, and jumped on a log. It was a first for my kiddos and they loved the classic bumps and drops. The ride ends with the classic plunge and of course be ready to get wet!
We took a little tour of the water park area. It was a little chilly so we didn't take part in the water fun. We definitely will be back though because it looks like a ton of fun. You can also swim in the lake which was very cool. There is a small beach and life guards on duty. You can make a full day just out of the water park area.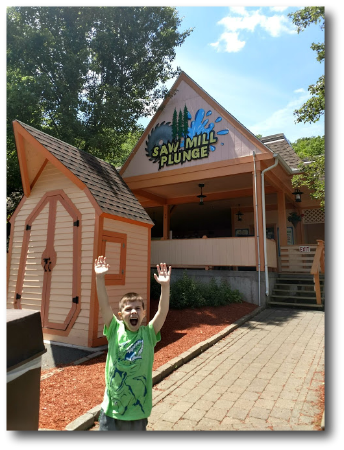 Our Tips For Your Trip
Make sure you put in the correct address in your GPS. Save yourself the detour!
They don't allow outside food or drink so check out the menus and make sure you check out their menu section to plan out your food options. They do have vegetarian and healthy options available in the park so there is plenty to choose from.
It gets hot so if you aren't enjoying the water park make sure you have lots of sunscreen and water!

There are plenty of rides for kids of all ages and clearly listed height requirements so you're ready to go!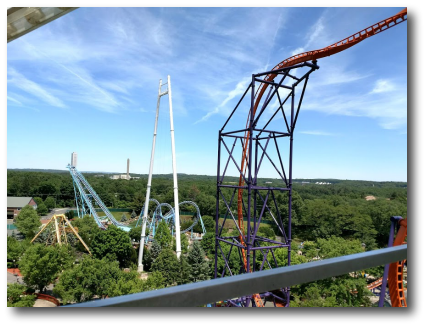 We had a blast on our family trip. Lake Compounce was laid back fun and much less crowded and stressful than other amusement parks. If you're looking to have a great day with less crowds and lines Lake Compounce is a great time. We enjoyed the nostalgia and the fun. Grab your tickets online.
Disclosure: Mommy Makes Time receives products in order to conduct reviews. No monetary compensation was provided unless noted otherwise. All opinions are 100% my own. Some posts may contain affiliate links that I receive commission or payment from in exchange for referrals. In the event of a giveaway, the sponsor is responsible for delivery of the prize, unless otherwise noted in the posting. I only recommend products or services I personally use and believe will be a good fit for my readers. I am disclosing this in accordance with the Federal Trade Commission's 16 CFR, Part 225: "Guides Concerning the Use of Endorsements and Testimonials in Advertising