This is a sponsored post in partnership with BraVoMark and SafetyPin Technologies."
Being a mom is hard. It's really hard. Don't get me wrong it's the most amazing thing I've ever done and I wouldn't trade it for anything, but it's still hard. Sometimes we need help but trusting people around your family adds a whole new set of anxieties. Hiring childcare or anyone else online is a daunting task. Plus, we've all heard the horror stories. People hiring people or using a service they found online only to find out they weren't getting what they thought they were.
Thankfully, SafetyPin Technologies has found a way to ease some of the anxiety with dealing with online people you will need to meet offline. We all use the internet for ease and convenience and now we can feel a little safer if those people use SafetyPin. SafetyPin is an online service that screens people and provides them with a "SafetyPin badge" they can use to online to show they have been screened. It's a convienient and easy way to know the person you are talking to is who they say they are.
SafetyPin Technologies provides a 4-pronged screening which includes criminal background, financial background, identity verification and behavioral screening. Their behavioral questionnaire was developed with criminal profilers and a clinical psychologist to weed out people who may present a danger (even if they don't have a criminal record). Once someone passes they are rescreened regularly to make sure their SafetyPin stays verified.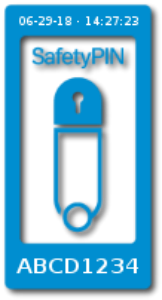 It's really easy to ask someone to get a SafetyPin. You can send them the link online and they can do it for only 1$. You can even pay to have someone verified by buying them a voucher for the service. Where else can you get peace of mind for only 1$! You can share your SafetyPin on websites or even in messenger!
I love this idea! It's a great way to ease stress when thinking of letting a stranger into our lives. After all, everything we do is online now. It's a great tool and when you have a way to verify people it doesn't have to be a scary thought!
Disclosure: Mommy Makes Time receives products in order to conduct reviews. No monetary compensation was provided unless noted otherwise. All opinions are 100% my own. Some posts may contain affiliate links that I receive commission or payment from in exchange for referrals. In the event of a giveaway, the sponsor is responsible for delivery of the prize, unless otherwise noted in the posting. I only recommend products or services I personally use and believe will be a good fit for my readers. I am disclosing this in accordance with the Federal Trade Commission's 16 CFR, Part 225: "Guides Concerning the Use of Endorsements and Testimonials in Advertising