At Seabrook High It's Zoms vs. Poms in
Disney Channel's Newest Original Movie!
ZOMBIES
At this School, it takes GUTS to be Yourself!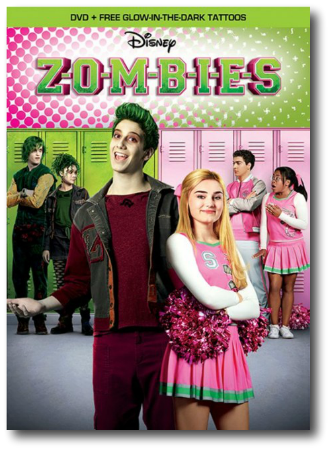 Synopsis:
Disney's "ZOMBIES" is a music- and dance-filled story set in the fictitious world of Seabrook, a cookie-cutter community brimming with perky conformity 50 years after a zombie apocalypse. Today, the zombies pose no threat, but are required to live in Zombietown, an isolated, rundown community infused with their unique creative spirit. When zombies are finally allowed to enroll in Seabrook High School, the charming, charismatic zombie Zed, who is determined to play football, meets freshman Addison who dreams of being a cheerleader — the ultimate form of status in Seabrook. Addison takes a lot of flak for befriending Zed and his zombie friends, but comes to learn that zombies and cheerleaders aren't so different after all. Zed and Addison work together to show Seabrook what they can achieve when they embrace their differences and celebrate what makes them a community. On Disney DVD April 24th.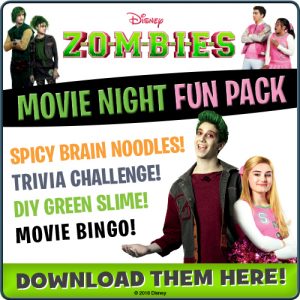 Our Thoughts
I didn't know what to think of this one when I first heard of it. We LOVED it! The whole idea was hilarious to my kiddos and they couldn't wait. Of course the movie is filled with signature Disney singing and dancing we all love. The message of celebrating everyone's uniqueness and how different doesn't mean you can't be friends is extremely important for kids today. If you haven't seen this one you should grab your own copy for a fun Family Movie Night! Check out the trailer below.
Disclosure: Mommy Makes Time receives products in order to conduct reviews. No monetary compensation was provided unless noted otherwise. All opinions are 100% my own. Some posts may contain affiliate links that I receive commission or payment from in exchange for referrals. In the event of a giveaway, the sponsor is responsible for delivery of the prize, unless otherwise noted in the posting. I only recommend products or services I personally use and believe will be a good fit for my readers. I am disclosing this in accordance with the Federal Trade Commission's 16 CFR, Part 225: "Guides Concerning the Use of Endorsements and Testimonials in Advertising