In the rhythm of everyday life, it's safe to say that we all tend to get into a routine. Whether we like that routine or not is very much a different story, but we definitely get into one all the same. You'll find that you get up at the same time, you do the same kind of things in the evenings, and you do the same kind of things around the home too. Your living room might be your Netflix watching spot for when the kids have gone to bed, while the bath is very much your peaceful reading retreat! Then, we've got the kitchen!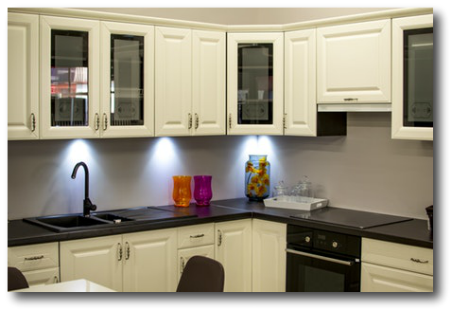 The kitchen is a room that most of us love. It's the place that we make all of our family meals in, and that we get to enjoy dinner with the family each night of the week. But sometimes, we limit ourselves on exactly what our kitchens can be! We get into a rhythm and routine of how to live, and we stick to it. This often means that we're not really utilizing our potential as well as we could be, and we get a little bit bored too! So, it's time to uncover just what more you can get out of your kitchen.
An Experimental Zone
Just like we tend to use our kitchens for the same purposes, we tend to get into the habit of making the same meals over and over (rotating around eight in fact). So it's time to switch that up and get experimenting.
Trying New Recipes
Kicking off your new way of doing things will always involve trying new recipes. Because you must be getting tired of those eight ideas by now? You can find a bunch of recipes on sites such as Food Network that are fun to make, tasty, and easy to make. So give it a go! Try a new recipe every day for a week and see how you get on.
Making Room For New Foods
At the same time, we all get stuck in our ways with the kinds of foods and ingredients that we buy and use too. Okay, so buying the same stuff makes grocery shopping easier, but it's boring too. There are so many different foods to try, and you can find so much information about different things online too. So try and get the entire family to try a new food or ingredient each week to shake things up.
Having A Wildcard
By this, we mean that you're going to do something a little bit out of your comfort zones once a week. Sit down with your children and everybody come up with some cool, quirky, and crazy ideas for recipes and what you're going to have for dinner. Do as many as you like! Then write each idea down on its own card and store them somewhere in the kitchen. Then once a week, one of you will pull a wildcard out of a hat (or whatever) and make that meal the next night for dinner. It's a great way to bring some fun and excitement into your kitchen (and to get your kids excited to try new things if you struggled with the last point).
A Catch Up Spot
Next, you're going to want to make sure that your homely kitchen can convert into a coffee shop too. Because there's nothing quite like being able to have a good old catch up in your kitchen.
Comfy Seating
First off, you're going to want to bring in some comfortable seating. If your kitchen is going to become a hub for you to relax in and enjoy time with friends, you're going to need somewhere to sit. Whether this is a bar stool area at the bar, or some lovely arm chairs or a couch that you can cozy down into, this will be the starting point of your catch up spot.
Coffee Equipment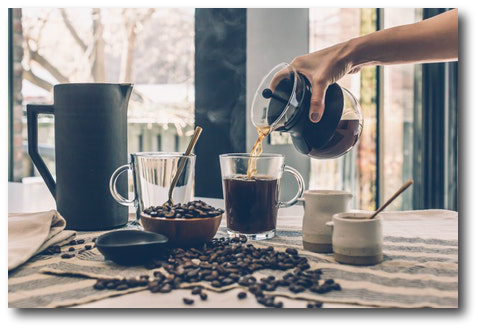 Now, you need some coffee making equipment. It's safe to assume that you have a kettle or coffee machine, but if not, it's time to invest. And you might what to upgrade what you have if you truly want to turn this area into a chic coffee spot. Also stock up on different kinds of coffee, tools, and cups to make things extra special.
New Nibbles
And what goes perfectly with coffee? Nibbles, of course! But forget all about the sugar-laced cakes and cookies you're used to buying at the store, you're going to want to make your own snacks especially for the occasion!
An Entertaining Center
Do you ever use your kitchen for entertaining? If not, then it's time to think about how you can add more life into your home's heart.
Bring In A Dining Area
You may not want to have your formal eating area in the kitchen, but you may want to bring something casual in – or at least nearby. When you're entertaining, you want the energy to flow. You don't want to feel too separated from your guests. At the same time, you're going to want to invest in some fabulous table settings so that your kitchen can really start to play the part of entertaining center extraordinaire.
Consider The Cocktails
Next, you're going to want to shake up your cocktail making skills with some killer new recipes. By learning to create some fun cocktails, you'll be able to whip up some exciting drinks whenever you've got guests over, whether they're staying for dinner or not. And just a heads up on what we're covered off in the next section – you might want to think about creating a bar space as part of the process too!
Work On Your Menu Choices
Finally, you're going to want to spend some of your time working on some new menu choices to wow your friends and family with too. Because what's an entertaining center without some exciting recipes? By now, you're getting good at shaking things up and trying new things, so this should be a breeze.
A Stylish Setting
Next up, you might want to think about doing a little bit of decor. Because if you don't have comfy seating for coffee catch ups or a dining space for entertaining, it's time to change that.
Expand Your Space
Do you have enough room to transform your kitchen into the multitasking mecca that you want it to become? If not, maybe it's time for you to get serious about that extension that you were thinking of getting. You might even want to rearrange the layout of your rooms and spill out into the garden with your entertaining and living spaces too. By creating a bigger kitchen come dining and living area, and incorporating the outside, the space will feel transformed.
Planning For Functionality
But, a huge thing to remember during this process is functionality. Don't just go for style. You're doing this to create a space that allows you to get more out of your kitchen. So you need to make sure that functionality underpins all of your design decisions.
Dressing Up The Decor
Finally, you're then going to want to put some time and energy into the decor. Because if you're transforming the space, you may as well get it to look good too. Be sure to make sure that the outside space kind of flows from your interior decor too, just to make sure everything works well together!
A Healthy Hub
Finally, you could also your use kitchen to be the main tool for creating healthy lifestyles for your family. And here's how.
Opting For Healthier Ingredients
We've talked about how you can enjoy new foods and try out different recipes, but we focused a little more on taste than anything else. But now, if you want to make the conscious effort to be healthy, it's time to opt for healthy ingredients too. From fish and seafood, from somewhere such as Citarella Market, to whole grains, this can be quite easy. Especially if you're keen to try out the next point too.
Growing Your Own
Growing your own produce is a great way to make sure that you're being as healthy as possible. And the best thing is, there are foods that you can grow right there in your kitchen! Herbs and salad leaves along with carrots can be made in your kitchen so they're kept to hand. And if you want to go all out, you can spill out into your new entertaining area and decorate the borders with planted fruits and vegetables you can pick and eat too!
Beating Out The Snack Aisle
Finally, you could definitely start to make some of your own snacks and healthier breakfast choices. We already took a look at the snacks you could make for coffee catch ups, and luckily a lot of those can transfer to family life too. So make up your own energy balls, smoothies, and more for your family to enjoy a healthier lifestyle in the hear of your home.
Disclosure: Mommy Makes Time receives products in order to conduct reviews. No monetary compensation was provided unless noted otherwise. All opinions are 100% my own. Some posts may contain affiliate links that I receive commission or payment from in exchange for referrals. In the event of a giveaway, the sponsor is responsible for delivery of the prize, unless otherwise noted in the posting. I only recommend products or services I personally use and believe will be a good fit for my readers. I am disclosing this in accordance with the Federal Trade Commission's 16 CFR, Part 225: "Guides Concerning the Use of Endorsements and Testimonials in Advertising