Being a parent comes with a lot of great perks, laundry isn't one of them. Kids are messy and that is okay. It's part of the fun of being a kid. However, messy doesn't always equal fun when it comes to your laundry. When it comes to getting the stains out of clothes I feel like I'm always on the losing end of that battle. Stains are my nemesis and I've spent way to much time and energy trying to find an effective way to get rid of all stains. I had no idea I was going about it all wrong until I was introduced to Biz.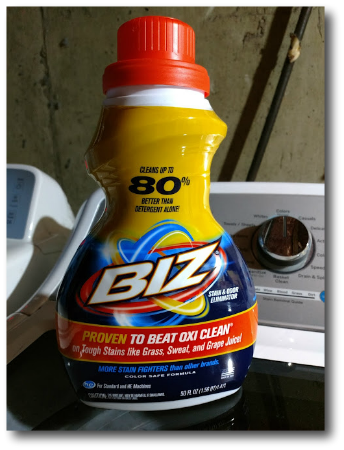 Biz is more effective then detergent alone. Did you know that different stains need different ingredients to remove them? I sure didn't. I thought that a stain was a stain and a detergent was a detergent (probably the reason for all the stains). Biz contains more ingredients to treat more stains so you already have the upper hand in clean laundry! I'm all about science and the reasoning behind things so if science is going to save me time (and money) on laundry and clothes I'm 100% behind this.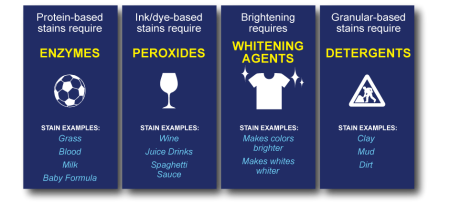 Now what is Biz? Biz is a stain fighter, detergent and pretreater in one! So you are essentially saving money buying one product versus buying a separate stain fighter, detergent and pretreating product.But does it work? I gave it a try adding it to my laundry detergent with Monster's sock laundry. If you have boys, even worse if they are into sports, you know how gross sock laundry can be. Well, I have to say that with only one wash these socks actually smelled and looked clean. This used to take detergent and those scented booster added to get them smelling clean. Sometimes one wash didn't cut it. I'm glad I'm saving money and not wasting water on laundry!
More about Biz
Cleans up to 80% BETTER than detergent alone
MORE STAIN FIGHTERS than other brands
Fights tough stains BETTER THAN OXI CLEAN guaranteed!
Contains a UNIQUE blend of enzymes which quickly dissolves stains and odors

Made with BIODEGRADABLE surfactants

You can find Biz at major retailers everywhere including Walmart and online at Amazon! Check out their site to see if your local store carries Biz!
Disclosure: Mommy Makes Time receives products in order to conduct reviews. No monetary compensation was provided unless noted otherwise. All opinions are 100% my own. Some posts may contain affiliate links that I receive commission or payment from in exchange for referrals. In the event of a giveaway, the sponsor is responsible for delivery of the prize, unless otherwise noted in the posting. I only recommend products or services I personally use and believe will be a good fit for my readers. I am disclosing this in accordance with the Federal Trade Commission's 16 CFR, Part 225: "Guides Concerning the Use of Endorsements and Testimonials in Advertising