We were provided with the following products to facilitate an honest review. All opinions are our own.
NICK'S MOST FAMOUS BABIES CRAWL BACK ONTO DVD
IN TWO NEW COLLECTIONS

RUGRATS: SEASON THREE
&
RUGRATS: SEASON FOUR
Rugrats: Season Three contains all 52 episodes from the show's third season and features classic episodes like "Naked Tommy" and "Angelica Breaks a Leg." Viewers will have a blast as they join Tommy, Chuckie and the gang as they grab a screwdriver, break out of the playpen and embark on over ten hours of grand adventures to the moon, north pole and even to Chuckie's first haircut!
Rugrats: Season Four picks up right where season three leaves off and contains over six hours and two discs of adorable adventures from season four. Fans won't want to miss the chance to relive the classic Rugrats family vacation, meet Spike's babies or laugh along as Phil and Chuckie discover the joys of dresses!
Rugrats: Season Three contains the following episodes: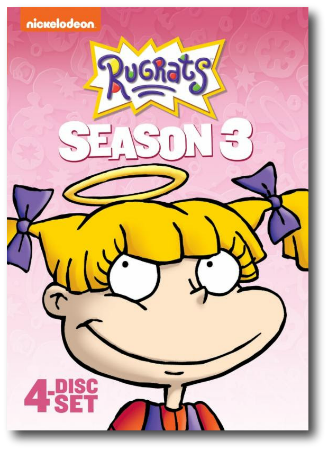 DISC ONE
Dummi Bear Dinner Disaster/Twins' Pique
Chuckie's First Haircut/Cool Hand Angelica
Tricycle Thief/Rhinoceritis!
Grandpa Moves Out/ The Legend of Satchmo
Circus Angelicus/The Stork
The Baby Vanishes/Farewell, My Friend
When Wishes Come True/Angelica Breaks a Leg

DISC TWO:

The Last Babysitter/Sour Pickles
Reptar 2010/Stu Gets a Job
Give & Take/ The Gold Rush
Home Movies/The Mysterious Mr. Friend
Cuffed/The Blizzard
Destination Moon/Angelica's Birthday
Princess Angelica/The Odd Couple

DISC THREE:

Naked Tommy/Tommy And The Secret Club
Under Chuckie's Bed/Chuckie is Rich
Mommy's Little Assets/Chuckie's Wonderful Life
In The Dreamtime/The Unfair Pair
Chuckie's Red Hair/Spike Runs Away
The Alien/Mr. Clean

DISC FOUR:

Angelica's Worst Nightmare/The Mega Diaper Babies
New Kid in Town/Pickles vs. Pickles
Passover
Kid TV/The Sky is Falling
I Remember Melville/No More Cookies

Cradle Attraction/Moving Away
Rugrats: Season Four contains the following episodes: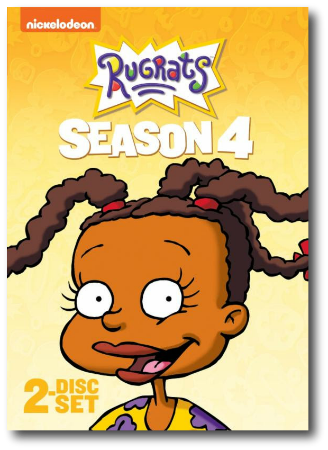 DISC ONE:
Vacation
Mother's Day
Chanukah
Spike's Babies/Chicken Pops
Radio Daze/Psycho Angelica
America's Wackiest Home Movies/The 'Lympics
The CarWash/Heat Wave
Angelica's Last Stand/Clan of the Duck
DISC TWO:
Faire Play/The Smell of Success
The Turkey Who Came to Dinner
Potty Training Spike/The Art Fair
Send in the Clouds/In the Naval
The Mattress/Looking for Jack
Hiccups/Autumn Leaves
Dust Bunnies/Educating Angelica
Ransom of Cynthia/Turtle Recall

Angelica Orders Out/Let It Snow
Our Thoughts
Rugrats has always been one of my favorites. I have always been a cartoon person (age doesn't matter when it comes to cartoons) and the antics of Tommy and friends was always one of my favorites. I think it always amazed me that these little babies could have such adventures without anyone noticing. My Monster gets a kick out of it and has recently started watching previous seasons. We have several extended car trips coming up and these two new DVDs are going to be perfect to pass the time. They are available now where DVDs are sold or grab them on Amazon
A huge thanks to our friends over at Nickelodeon for giving our readers a chance to win these brand new DVDs! Simply enter below!! Giveaway ends 2/16/18!
Disclosure: Mommy Makes Time receives products in order to conduct reviews. No monetary compensation was provided unless noted otherwise. All opinions are 100% my own. Some posts may contain affiliate links that I receive commission or payment from in exchange for referrals. In the event of a giveaway, the sponsor is responsible for delivery of the prize, unless otherwise noted in the posting. I only recommend products or services I personally use and believe will be a good fit for my readers. I am disclosing this in accordance with the Federal Trade Commission's 16 CFR, Part 225: "Guides Concerning the Use of Endorsements and Testimonials in Advertising