Thank you to Over The Moon Herbals for providing us with both pre-made and elderberry syrup making kits. All opinions are our own.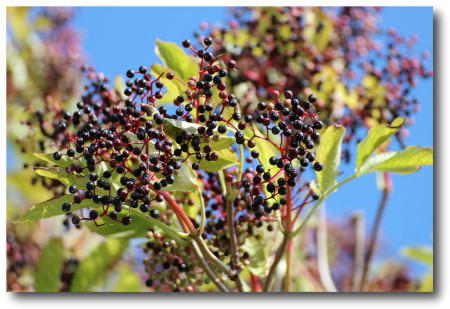 When you work with small children you get sick. It's a reality of tiny hands in their mouths, an inability to cover tiny mouths and the need for sick snuggles. I've always accepted that cold season would be rough and as a small business owner and mom, there are no sick days. Last year I was was on a mission to find a natural way to boost my immunity and hopefully fend off the germs when I came across elderberries.
Elderberries have a long history as a folk cure for a variety of ailments. While some uses haven't been proven yet, elderberries in the form of elderberry syrup have been shown to boost immunity, decrease mucous production during colds and fight the flu. Elderberries are a rich source of vitamins A and C which we all know helps boost your immune system. According to a study in the Journal of International Medical Research, patients given elderberry syrup recovered an average of 4 days faster from the flu than those not taking the supplement. Elderberries have even been shown in the labs to help prevent swine and avian flu strains.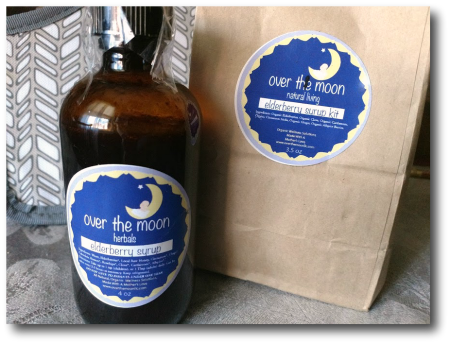 Last year I made my own Elderberry Syrup with the help of a friend from Over The Moon Herbals. As an herbalist she was able to give me guidance in making my own batch of syrup. It was a lot simpler than I imagined and my family got to benefit all season long. Looking to make your own syrup? It's really not hard, especially with an elderberry syrup kit from Over The Moon Herbals. The kit contains everything you need to make a batch of elderberry syrup. The directions are simple and Over The Moon Herbals has taken the time and care to craft the kit with all organic ingredients. This is the perfect kit if you want to make your own syrup but don't want to buy a bunch of additional herbs you may not use.
If you're looking to try this syrup without having to make your own, I recommend the shop at Over The Moon Herbals for their pre-made syrup! All the immune system boosting benefits without having to make it yourself. I've just started taking this syrup and my cold symptoms are much less severe then they usually are (and I've had lots of colds to compare).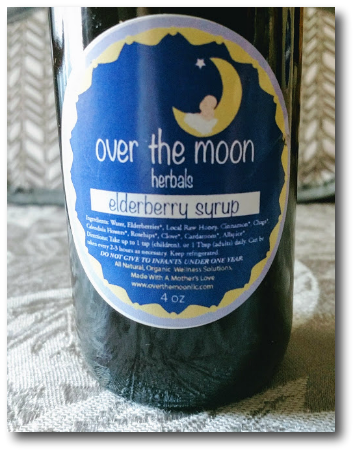 When this cold passes I plan on taking the recommended dose daily to hopefully ward off those extremely contagious and lovingly passed kiddo germs. If you're looking for other natural wellness products Over The Moon Herbals is the place to go. Their online communities are amazing with answering questions and providing support. Greatest part? You are shopping small, mom-made products (which is always my favorite part). What do you think of elderberry syrup?
Get Social With Over The Moon Herbals
Twitter
Facebook
Instagram
Learning Community
Website
Etsy Shop
Disclosure: Mommy Makes Time receives products in order to conduct reviews. No monetary compensation was provided unless noted otherwise. All opinions are 100% my own. Some posts may contain affiliate links that I receive commission or payment from in exchange for referrals. In the event of a giveaway, the sponsor is responsible for delivery of the prize, unless otherwise noted in the posting. I only recommend products or services I personally use and believe will be a good fit for my readers. I am disclosing this in accordance with the Federal Trade Commission's 16 CFR, Part 225: "Guides Concerning the Use of Endorsements and Testimonials in Advertising