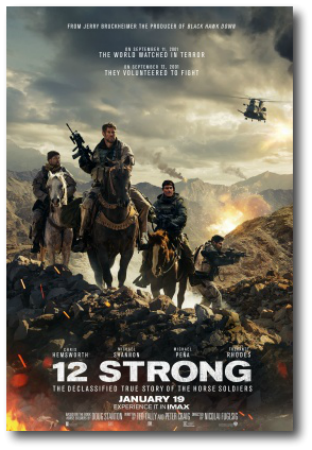 12 Strong is set in the harrowing days following 9/11 when an elite U.S. Special Forces unit, led by their Captain, Mitch Nelson (Hemsworth), is chosen to be the first U.S. soldiers sent into Afghanistan for an extremely dangerous mission in response to the attacks. Leaving their families behind, the team is dropped into the remote, rugged landscape of northern Afghanistan, where they must convince General Rashid Dostum (Navid Negahban) to join forces with them to fight their common adversary: the Taliban and their Al Qaeda allies.
In addition to overcoming mutual distrust and a vast cultural divide, the Americans—accustomed to state-of-the-art warfare—must adopt the rudimentary tactics of the Afghan horse soldiers. Despite forming an uneasy bond and growing respect, the new allies face overwhelming odds: vastly outnumbered and outgunned by a ruthless enemy that does not take prisoners.
Our Thoughts
This was a film I was looking forward to seeing and it did not disappoint. I, like many other people, had not heard anything about this story before seeing trailers for the film. The idea sounds like something made up at first until you realize just how amazing people who defend out country actually are and what lengths they will go to to accomplish their mission. Chris Hemsworth did an amazing job playing Captain Nelson. His portrayal gave a glimpse of what these men and women give up to serve and protect not only their families but the rest of our country.
If you go into this film knowing that it is based on a true story and people actually lived through this, it's easy to become even more emotionally invested in these characters on screen. The acting was well done and the cinematography is amazing. This film was done very well and was a great tribute to the soldiers it portrays.. It is a must see even if this isn't your typical movie genre. Be prepared to be on the edge of your seat throughout the film. I'm headed back with my husband again this weekend so he can see what I've been talking about since the screening.
Disclosure: Mommy Makes Time receives products in order to conduct reviews. No monetary compensation was provided unless noted otherwise. All opinions are 100% my own. Some posts may contain affiliate links that I receive commission or payment from in exchange for referrals. In the event of a giveaway, the sponsor is responsible for delivery of the prize, unless otherwise noted in the posting. I only recommend products or services I personally use and believe will be a good fit for my readers. I am disclosing this in accordance with the Federal Trade Commission's 16 CFR, Part 225: "Guides Concerning the Use of Endorsements and Testimonials in Advertising