It's that time of year when it starts to get really cold – we're talking minus degrees – so naturally, it is the perfect time to start thinking about escaping to sunnier climes. Instead of shovelling snow from your drive and turning the heating system up ever further in an attempt to keep warm, you could be sitting on a sunny beach sipping a daiquiri and getting a tan if only you had thought to book a vacation!
Well, there's still time and should you decide to jet off somewhere hot  and bright, here are a few tropical travel resorts you should consider:
Hermitage Bay in Antigua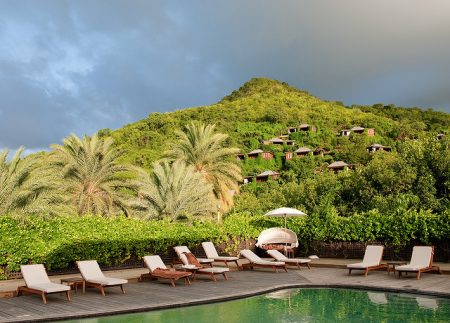 Traveling anywhere in the Caribbean is sure to warm your bones and help you to relax this winter, but there is no doubt that Hermitage Bay in Antigua is one of the best locations in the Caribbean. Why? Because it is really contemporary. Home to just 17 bungalows, located on a quiet hillside and eight bungalows right out on the beach, it is the place to go if you want to get away from everything and everyone and spend your days sipping cocktails on a beautiful beach.
Spice Island Beach Resort in Grenada
Founded in the early 60s this resort, which sits on the pristine sands of the Grand Anse Beach is undoubtedly one of the most sophisticated and well-loved beach resorts on the whole planet. Renovated just a few years ago, its grounds are pristine, its rooms bright and airy and it's all-inclusive deals too good to turn down if you're looking for fun in the sun with a little bit of luxury thrown in for good measure.
KiChic in Peru
Peru is a beautiful South American country with a history dating back at least as far as 9,000 BC, so if you love you some history, there can be few better places to pack up and travel with the kids to – you'll see some amazing sites.
If it's relaxation and lots of sun you're looking for, KiChic is the part of Peru you're going to look for. Why? Because it's located right on the Pacific Coast, not too far from Mancora, and it is home to an endless array of wide open beaches. While you're there, you can participate in daily yoga classes, have your own massage therapist ready and waiting to help you relax and benefit from amazing sea views from this beautiful bohemian holiday resort.
Kokomo Private Island Resort Off Fiji
Kokomo Private Island Resort is a luxury getaway, which is located on its own private island just a short trip from the mainland of the also very beautiful Fiji. When you book a stay there, it is all-inclusive, so you get all of your food and drink, not to mention top-notch accommodation all for the tag price, and since the food here is fantastic, the hospitality as friendly as you could ever want, and the beaches truly pristine, you'll never want for anything during your sunshine stay.
Constance Moofushi in the  Maldives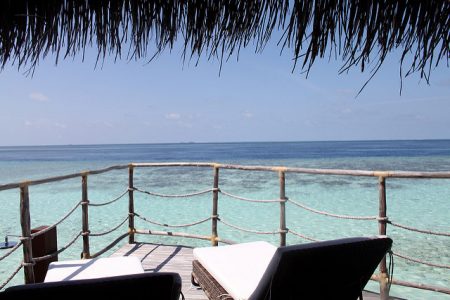 This all-inclusive resort is a fantastic experience from start to finish. When you touch down, you'll be impressed by it's extremely comfortable and luxurious airport lounge, for sure, but when you take the necessary seaplane to get to the tiny private island which makes up the actual resort, you'll be even more blown away by its exquisite beaches, which are perfect for diving and snorkeling – it even has its own reef! You'll also be impressed by the 110- stylish, yet rustic rooms, each with its own mini-bar, entertainment system and breathtaking view of the surrounding sea. You'll be even more impressed by the beautiful fresh seafood, and high quality drinks that complete your experience. This is one place you'll want to visit without the kids!
St. Regis Princeville, Hawaii
This resort is one of those places that, once there, you never want to leave. Why? How about close proximity to Hanalei Bay – the most famous of all Kauai's beauty sports? What about the Na Pali Coast with its rugged mountains perfect for hiking? If that's not enough for you, then the food at Jean-Georges Vongerichten's Kauai Grill and the seemingly never-ending sunshine is sure to win you over!
The Royal Hideaway Playacar in Playa Del Carmen
The Royal Hideaway Playacar is just one member resort in a consortium called Leading Hotels of the World, so you know that it's going to be good! High-end rooms, a full-service beauty and relaxation spa, numerous pools and an adults-only policy, which is strictly enforced make this another great place to visit when you're traveling sans kids and looking for a little luxury in the sun.
Song Saa Private Island in Cambodia
Song Saa Private Island takes its name from the Khmer words for 'the sweethearts', and you're sure to have a sweet experience at this private island location in the largely unspoiled Koh Rong Archipelago area. The resort itself spans across two islands, and since there are only 27 cozy villas to be found there in total, it offers a whole lot of privacy. Whether you're relaxing on your private pool deck, having a massage at the on-island spa or exploring the clear blue seas, You'll never be too troubled by unwanted company – total bliss can be yours!
Samabe Bali Suites & Villas in Bali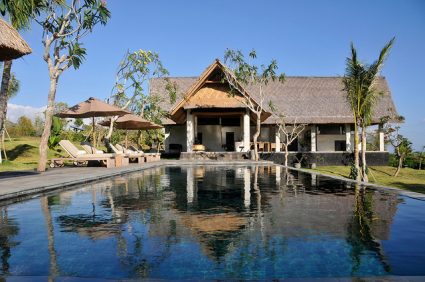 The Samabe Bali is an uber-luxurious resort located both at the top of a cliff and right on the beachfront. It hosts 81 villas and suites, which are simple, but also very elegant and extremely comfortable – all with ocean views. Not only that, but the villas benefit from their own private infinity pools, and there's a private beach, along with a spa, two great restaurants and even a kids' club to keep all of the family happy.
If you're looking for a winter warmer that will let you experience a little luxury for a little while, traveling to any of these fantastic tropical resorts this winter (or at any time really) will absolutely not disappoint.
Disclosure: Mommy Makes Time receives products in order to conduct reviews. No monetary compensation was provided unless noted otherwise. All opinions are 100% my own. Some posts may contain affiliate links that I receive commission or payment from in exchange for referrals. In the event of a giveaway, the sponsor is responsible for delivery of the prize, unless otherwise noted in the posting. I only recommend products or services I personally use and believe will be a good fit for my readers. I am disclosing this in accordance with the Federal Trade Commission's 16 CFR, Part 225: "Guides Concerning the Use of Endorsements and Testimonials in Advertising