The Creative Magic of CIRQUE MUSICA presents BELIEVE
Inspires the Spirit of the Holidays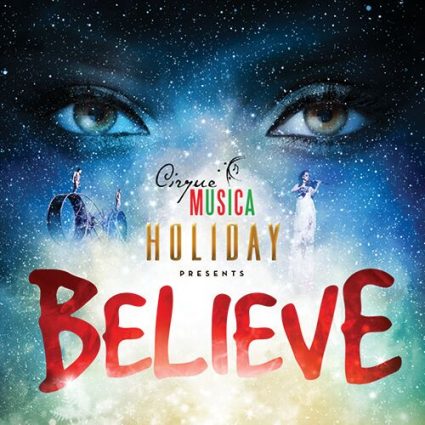 CIRQUE MUSICA HOLIDAY presents BELIEVE, a one-of-a-kind and joyous circus spectacular for the entire family, features mesmerizing performances from an accomplished roster of international circus stars – all accompanied by the greatest holiday songs performed by a live symphony orchestra. You'll be astounded by the grace and dexterity of contortionists, the inconceivable feats of acrobats, and the amazing artistry of aerialists. You'll laugh out loud witnessing hilarious hijinks and be spellbound by the daredevil athleticism.
Exquisite circus artistry accompanied by a live symphony orchestra is unprecedented in the field of live family entertainment. "It is important to create an environment that envelopes all of the senses," states Stephen Cook, CIRQUE MUSICA Producer and President of TCG Entertainment. "I want CIRQUE MUSICA audiences to leave this holiday celebration amazed and surprised by what they've seen, heard, and felt. To feel the spirit of Christmas."
More About Noe España, Show Director
A fifth-generation circus performer with family roots in both Europe and North America, España knows the business from both the performer side of the spotlight and from behind-the-scenes involvement in production, direction, and logistics. Challenged and inspired by the most incredible acts in the circus repertoire, those demanding the greatest precision, skill, and style, he has pushed the envelope with his interpretations of the Flying Trapeze, Wheel of Destiny, and Globe of Death, among other aerial and thrill acts, winning a Silver Clown at the International Circus Festival in Monte Carlo. In addition, for more than two decades, España has been deeply involved as both collaborator and guiding light in the programming, direction, and production of circus-themed entertainment. His industry credits include the prestigious Action Maverick Award presented to him by New York's MacArthur Genius Award choreographer and dance maverick Elizabeth Streb.
Cirque Musica: Believe is coming to the MassMutual center December 13th for one show only! Tickets are still available to purchase through the MassMutual Box office! Enjoy the family friendly show with the whole family!