We received a visit with Samsung Heath's Ask an Expert doctor to facilitate an honest review. All opinions are our own.
It's cold and flu season and that means unless you are super lucky, we are all going to get sick at some point. If you're a busy parent like myself, taking time out of your busy day to go to the doctor isn't always an option. Now if it was something serious, heading to the doctor is a must. However, with today's technology, you can now talk to an expert for acute illness right from your smart phone!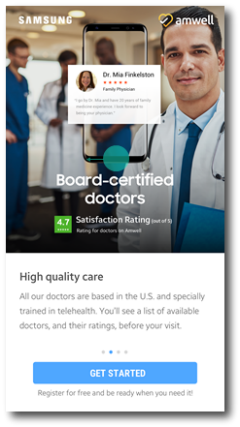 Samsung Health's Ask an Expert feature is fantastic. First of all it is already loaded into your Samsung device so there is no searching for a download! You also earn Samsung reward points for enrolling for a limited time (win win for everyone). My readers can save 10$ on their visit with code SAMSUNG22!**
Talking to a doctor with Ask An Expert was really simple and informative. Last week I had an accident camping. After my crazy morning I ended up needing stitches. While I had already visited a doctor for the accident I had a few questions several days later about the pain. I simply opened my app, chose ask an expert and got to talk with a doctor. I shared my concerns about the pain level and concerns about possible infection. I was given great information about the amount of nerves in the area of my injury and how hand wounds are extremely painful for a lengthy period of time. She also told me what to look for in regards to infection and when it would be time to head back to the doctor. She even gave me a few great tips on bandage placement to minimize discomfort (total life saver this week!) My concerns were eased without the wait at urgent care! I don't know how I've gone so long without using this feature!
Samsung Health board certified doctors are available 24/7 for urgent care concerns. You can even get a prescription, if needed, sent to your local pharmacy. It's easy to share the biometric data you've tracked in Samsung Health directly with the doctor you see online just like an in person visit. Most insurance companies even cover Samsung Ask An Expert (check with your own carrier for options).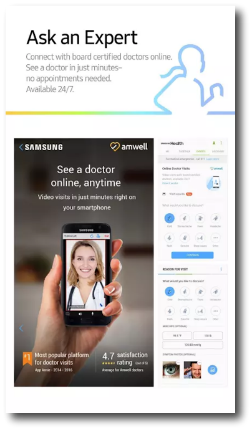 Some Common Conditions we treat with Urgent Care
Sinus infection
Cold/upper respiratory infection
Bronchitis
Sore throat
UTI (Urinary Tract Infection)
Yeast Infection
Cough
Eczema
Pink Eye/Conjunctivitis
Stomach Infection (Gastroenteritis)
Hypertension/high blood pressure

Flu
My health insurance does not cover doctor visits until I reach my deductible so Samsung Health's Ask an Expert saves me a lot on a visit with a doctor. It's more than half the cost of a traditional urgent care visit. This allows me to see a doctor more than I would in the past. I'm really excited about being able to treat illnesses I would have just let run their course in the past! Try it for your next acute illness! Don't forget to use your 10$ code to save even more. Just apply code SAMSUNG22 right in the Samsung Health app!
**$10 OFF of a doctor visit which is regularly $59, making it $49 with use of the code; expires 3/31/18
Disclosure: Mommy Makes Time receives products in order to conduct reviews. No monetary compensation was provided unless noted otherwise. All opinions are 100% my own. Some posts may contain affiliate links that I receive commission or payment from in exchange for referrals. In the event of a giveaway, the sponsor is responsible for delivery of the prize, unless otherwise noted in the posting. I only recommend products or services I personally use and believe will be a good fit for my readers. I am disclosing this in accordance with the Federal Trade Commission's 16 CFR, Part 225: "Guides Concerning the Use of Endorsements and Testimonials in Advertising