This is a sponsored conversation written by me on behalf of The J.M. Smucker Company. The opinions and text are all mine. I'm partnering with Folgers® at Walmart through the Share A Cup & A Story campaign, to create personal connections with Veterans and honor their service to our country.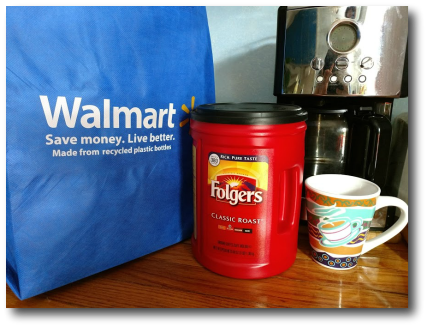 Sitting down at the table getting ready to have another chat with my grandfather, I realize just how lucky I am to be able to have this conversation. Not many people my age are able to sit down with their grandfather. Last year we lost my grandmother and it hit us extremely hard. Every day I have left with him is a something I'm blessed to have. He recently had a large section of skin cancer removed from his face. It doesn't dampen his spirit and I admire that in him.
Handing over his cup of Folgers® Classic Roast from Walmart (extra cream just like he loves it), I was taken aback by the vast amount of experiences this man has had in his life. You'd never know it because he never talks about much. He has never mentioned his time in the service but if you ask him he will answer. He prefers to talk about movies and ask us questions. Well not so much ask as tell us in his own brash way. He's turning ninety soon and he's earned the right to say anything about anything at this point.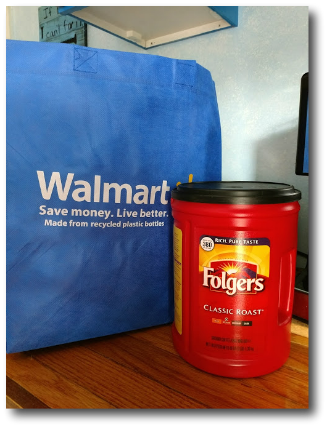 I asked him a few questions about his time in the service, just to see exactly what he'd like to share. Taking a long sip of his coffee, his gaze shifted off to another time. Serving at the tail end of World War II can't have been an easy experience. He was a Corporal in the Army stationed in Japan. He was very young and ended up with a position as a cook for one of the generals. This always struck me as amazing never having seen him cook anything while growing up, not that my grandmother would ever let him try. The pride on his face was evident as he discussed his experience making food for this extremely difficult and picky general. Telling me the details of how this particular general liked his steak cooked extremely rare and only he could do it correctly was a memory he proudly shared. He didn't really discuss much more of what he did in the service, memories from seventy plus years ago don't always come easy anymore.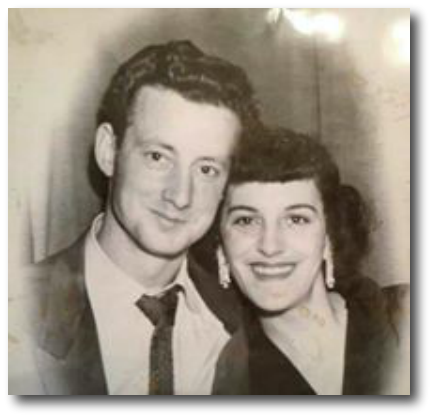 The work ethic he learned in the service is something I've always seen from my grandfather. He never stopped working and when he was working he gave it everything. There was nothing done halfway or done without giving it his all. I believe that this is something he was born with but it was ingrained further into his personality during his time in the service. His hard working attitude is what got him to enlist in the first place. Times were not easy here before and during the war so he enlisted to send money back to his mother and siblings. This is truly amazing and I can't even imagine the pressure of enlisting in the service, being shipped off to the other side of the world and having people depend on you.
I poured a second cup and we talked more about the kids, he gets a kick out of my crazy kiddos. They love their "Poppy-Do" as well. He talks about how they keep him young and I love the bond they've formed, especially since the loss of my grandmother. He has been so strong my whole life and hearing him talk about the past just reminds me what an amazing life he has led. We are so lucky to have him in our lives and taking the time to have these conversations over a cup of coffee reminds him that he means so much to us.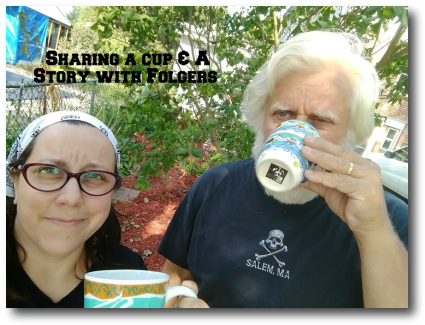 My father stopped in to join in the conversation. He grabbed a cup of coffee with cream and sugar, he listened. He went to the Citadel to become an officer during the Vietnam war. Luckily, he never saw combat during the war and married my mother shortly after. He added a few tales of life during his time in military school and right after.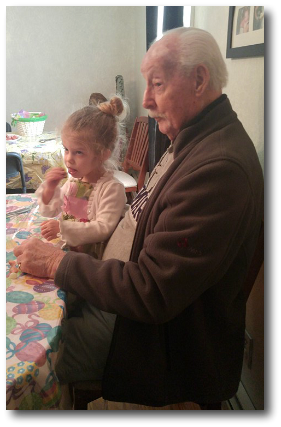 He became tired and my kids decided they've had enough of being quiet for the day. My Lovebug curled up in his lap and they snuggled. This brave, strong soldier that has done so much in his life, curls up with my daughter and lets her chat about princess stuff. Our recent chat reminds me how much he prides his strong work ethic and providing for his family. At the end of the day taking care of the ones you love is the most important thing and all of his sacrifices have created this life we all have.