We were hosted by The Salem Haunted Magic show. All opinions expressed are our own.
It's Autumn in New England… Well it is on the calendar despite the mid July temps we have outside. I love Autumn and all the fun holidays. As the weather changes I already start anticipating all the fun activities that come with the season. The crisp air brings apple picking, pumpkin patches and Halloween. I love everything about Halloween. Living in Massachusetts we are lucky to have the spookiest town in the country to help us celebrate. Salem, Massachusetts is ready for the season with it's spine tingling history and celebrations.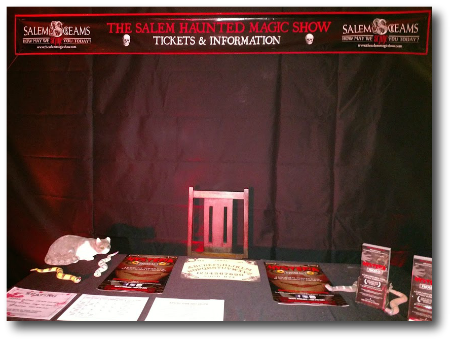 We were invited to the Salem Magic Show's first show of their 2017 program HYSTERIA: Phobias and we couldn't wait to kick the season off right. We took a trip to Salem on a warm Saturday afternoon. Salem has always been on of my favorite places to visit. As a history buff, I can't get enough of all the historical events surrounding the town. We parked and walked over to the Church where the performance was being held. Something about a haunted magic show happening in a church immediately adds to the creepiness factor.
Upon walking into the theater we were greeted by the performer and mind reader for the day, Christopher Grace. He did a amazing job welcoming everyone and performing a few opening magic tricks while we all settled in. The show's premise, Phobias, was something that I was really intrigued by. Each magic act centered around a certain phobia.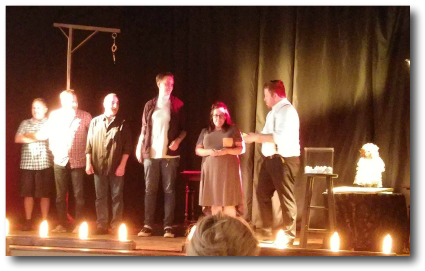 The audience was called up to participate during different times. I'm not usually a fan of being called on for things but Christopher made it very comfortable and not at all terrifying (as being front and center usually feels for me… look at that I got over a phobia!). The audience participation really draws everyone in to each of the acts. From acts of illusion to contact with resident ghost dolls, this show really gets you in the Halloween Spirit.
My favorite part of the show was the "mind reading" segment at the end. Christopher did an amazing job with the audience and left everyone wondering how he did it. This show was a little spooky for the younger crowds but would be just fine for pre-teens and up. The official opening is October 6th. You can find out more details and order tickets on The Salem Haunted Magic Show's website.
More About HYSTERIA: Phobias
A 75 MINUTE INTERACTIVE HAUNTED MAGIC & MIND READING PERFORMANCE. DURING THE SHOW YOU WILL WITNESS INCREDIBLE MAGIC, IMPOSSIBLE MIND READING AND BIZARRE, POSSIBLY FRIGHTENING DEMONSTRATIONS THAT RELATE DIRECTLY WITH OUR SHOWS THEME.

THE USE OF SPECIAL EFFECTS MAKE UP, STROBE LIGHTS, LOUD AUDIO AND OTHER "HAUNTED HOUSE" TYPE OF EFFECTS ARE USED IN THIS SHOW.

AUDIENCE PARTICIPATION IS VOLUNTARY AND YOU WILL NEVER BE ASKED TO DO ANYTHING EMBARRASSING OR EMOTIONALLY HARMFUL. THE POINT IS TO HAVE FUN, GET FREAKED OUT A BIT AND ENJOY THE MYSTERY AND HISTORY OF THE HALLOWEEN CAPITAL OF THE WORLD.SALEM, MASSACHUSETTS!***
***The show is suitable for all ages. However we recommend children to be at least 10 years old. The themes and images in the performances may be a little too scary for the younger kids and we have no intention on scaring little children.
Please Note: This is not a children's magic show in any way. Children are welcome but this show is designed for PG-13 Audience!
Get Social with The Salem Haunted Magic Show
Disclosure: Mommy Makes Time receives products in order to conduct reviews. No monetary compensation was provided unless noted otherwise. All opinions are 100% my own. Some posts may contain affiliate links that I receive commission or payment from in exchange for referrals. In the event of a giveaway, the sponsor is responsible for delivery of the prize, unless otherwise noted in the posting. I only recommend products or services I personally use and believe will be a good fit for my readers. I am disclosing this in accordance with the Federal Trade Commission's 16 CFR, Part 225: "Guides Concerning the Use of Endorsements and Testimonials in Advertising