TALES OF THE TEENAGE MUTANT
NINJA TURTLES WANTED:
BEBOP & ROCKSTEADY
Available on DVD September 12, 2017
With Exclusive "Ice Cream Kitty" Animated Music Video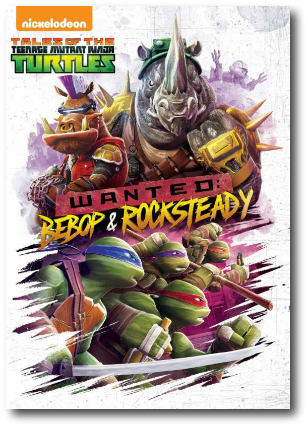 For the first time ever, episodes of Nickelodeon's Teenage Mutant Ninja Turtles will arrive on DVD two months before their television debut in Tales of the Teenage Mutant Ninja Turtles Wanted: Bebop & Rocksteady, hitting shelves September 12. This clock-stopping and time-hopping special is sure to be an instant favorite among modern day fans as well as superfans of the original 1980's series.
Dimensions collide in this one-of-a-kind Teenage Mutant Ninja Turtles special, when '80s Shredder and Krang transport themselves to present-day New York. There they team up with Bebop and Rocksteady for the ultimate throwback throw-down against the Turtles. This four-episode collection not only brings back classic and villainous faces, but also takes fans back to where it all began – with a newly mutated Splinter on the run while protecting four baby mutant turtles.
Tales of the Teenage Mutant Ninja Turtles Wanted: Bebop & Rocksteady contains the following episodes:
Wanted: Bebop & Rocksteady – When 80's Shredder and Krang appear in our dimension, they employ Bebop & Rocksteady and find their plans are succeeding better than ever.
The Foot Walks Again! – The Turtles must train their '80s counterparts to face a greater threat than they've ever encountered.
The Big Blow-Out – The Turtles enlist the help of the Mighty Mutanimals to stop Bebop and Rocksteady.
Lone Rat and Cubs – When Splinter is first mutated, he must learn to survive the life of a mutant on the run while also protecting four baby mutant turtles.
Our Thoughts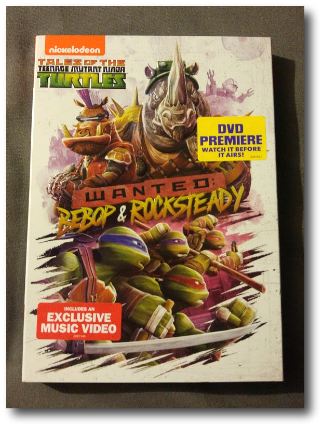 My Monster is a HUGE Ninja Turtle fan and he was insanely excited to see this new DVD. When he found out he was watching episodes that hadn't been on TV yet he was ecstatic. Bebop and Rocksteady were my favorites when I watched the original episodes (yes I know I just gave away my age big time). It was fun to watch the classic characters back at it. If you're a fan of the newer Ninja Turtles you know who Ice Cream Kitty is. The bonus music video will not disappoint!
Thanks to our friends at Nickelodeon, we are giving away a copy of this DVD so you can see these episodes before they air! We're also including a bonus gift with the DVD!! Simply enter below and good luck!
Disclosure: Mommy Makes Time receives products in order to conduct reviews. No monetary compensation was provided unless noted otherwise. All opinions are 100% my own. Some posts may contain affiliate links that I receive commission or payment from in exchange for referrals. In the event of a giveaway, the sponsor is responsible for delivery of the prize, unless otherwise noted in the posting. I only recommend products or services I personally use and believe will be a good fit for my readers. I am disclosing this in accordance with the Federal Trade Commission's 16 CFR, Part 225: "Guides Concerning the Use of Endorsements and Testimonials in Advertising