My family is looking into adding a furbaby to our crazy mix and the kids really (I mean really) want a puppy of their very own. I had dogs growing up but it's been a very long time. I decide to make sure we had all our research done before we adopt a little guy of our own and puppy "potty" training is really high up on the list!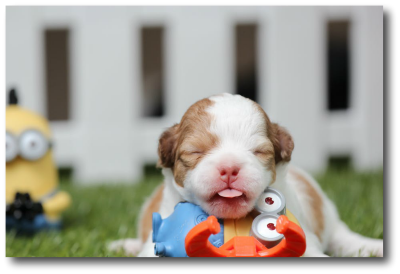 There are so many things you have to know about puppy "potty training" yet, as unbelievable as it sounds, it is something that you can master in couple of days. It is a process that comes down to routine and funny enough, loving your pet. So if you are prepared for small potty accidents that will occur, it is time to adopt your new puppy and make it a part of your family!
According to some experts, "potty training" is not only about teaching a puppy how to relieve itself outside; it is also something that is meant to build discipline. It goes hand in hand with walks and your puppy will likely relieve itself when you go out for a physical activity. Nevertheless, there needs to be a separation between the two because not every walk is for exercise nor is every walk for relieving.
Potty training fundamentals
First and foremost, you need to address potty training as a procedure, not as a fun activity which you may or may not do.Even though you can allow yourself not to go outside for a recreational walk, pottying outside of your home is a must (unless you are planning on showing your puppy how to use the bathroom).
Dogs need to potty several times a day: As I said, it is necessary to go out several times per day, usually about 5 to 7 times depending on the breed. Smaller breeds require more attention due to their smaller body and inability to "keep it in". You will likely go out each morning as soon as the dog wakes up as they have similar system as humans and it builds up within them during the night. Similarly, you will have to go out prior to bedtime so that the dog doesn't have a midnight accident.
Be patient: Accidents will happen. Be prepared for them and try to shrug them off. There is no need in being nervous or even worse, taking it out on a dog. Best way that the dog will learn is if you take your time and make these walks a routine. After a while, dog will start showing initiative as it wakes you up or shows you in some other manner that it needs to go out. Have in mind that if the dog starts barking, circling around or scratching at the door, this is a good sign that it needs to go and potty immediately.
Use commands: Commands are crucial for any type of training. After a while, a dog will pick up some of the words you're using and he will be able to recognize that you're going out. These commands are important as they tell a dog when precisely to relieve itself and becomes a part of its programming. Make sure everyone is on board with the same commands so you don't confuse the poor puppy!
Proper meals: There are several things you need to keep in mind when it comes to meals. First and foremost, they need to be at the same time and in the same quantity. If the dog doesn't eat whole meal at once, make sure to remove it. This will prevent small nibbling during the day. By doing this and adhering to your schedule, you can always be certain that dog will most likely need to go out at the same time. Additionally, have in mind that dogs usually need to relieve themselves about 30 minutes after a meal. Of course, by watching the dog and learning its habits you can get a clearer picture.
I can't wait to add our addition to our family and I know I'm ready for puppy training and all that comes with it. Watch for updates on our addition!
Disclosure: Mommy Makes Time receives products in order to conduct reviews. No monetary compensation was provided unless noted otherwise. All opinions are 100% my own. Some posts may contain affiliate links that I receive commission or payment from in exchange for referrals. In the event of a giveaway, the sponsor is responsible for delivery of the prize, unless otherwise noted in the posting. I only recommend products or services I personally use and believe will be a good fit for my readers. I am disclosing this in accordance with the Federal Trade Commission's 16 CFR, Part 225: "Guides Concerning the Use of Endorsements and Testimonials in Advertising