We live in New England and that means weather extremes are the norm. By the time Winter slightly starts to thaw we are all thinking Summer. I personally try and cram as much fun in the few short weeks of summer we have. I've seen some of my friends create these amazing "Bucket Lists" and they all look like they are going to have a blast this summer. This year I've devised my own handy list to help make the most of Summer and I decided to share!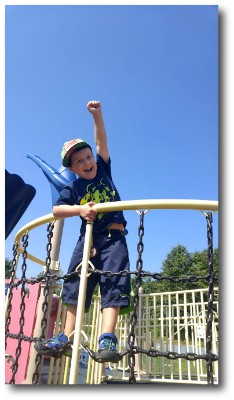 Summer Bucket List
1. Visit the beach. This may seam like a "ya no kidding Kira item," but depending on your location this can be a tricky endeavor. We only live about an hour from the Ocean but I've lived all over this country and haven't always been near a coast. You can find amazing beaches by rivers and lakes. Find your favorite body of water and head that way!
2. Water Balloon Fight! What better way to cool off and channel your inner child than with a water balloon fight. We love Water Wubble for safe and environmentally friendly (and wallet friendly) reusable water balloons!

3. Have a Camp Out. Camping is fun and tech free fun. Get back to nature and go camping. We do camping in our own back yard as a way to introduce the idea to the kiddos. Sing camp songs and spend time with one another.
4. Have a tech free day. Plan a full day tech free. You can do it I swear. We tried it out and it was amazing how much we connected with one another. Check out Keeping Tech In Check for other great ways to balance tech in your family.
5. Have a picnic. Take your meal outside. You can switch it up and have breakfast or a snack outside. Keep it casual with an old blanket and paper plates. Eating outside is always fun and a welcome change from mealtime routines.
6. Go for a Hike. Now I have little kids so our "hike" is more like a nature walk but we are still out enjoying nature and doing something fun.
7. Visit a Splash Pad or Spray park. These fun filled parks cool you off in the heat without some of the safety concerns of pools. We have several local spray parks that are amazing and make the perfect quick trip!

8. Visit a Theme Park. While I wish I could visit Disney every day, summer is never our go-to travel time. I lived in Florida… it's hot in the summer. We have a Six Flags near where we live and my Monster is obsessed. Check out season pass options if it's something you plan on doing more than once.
9. Read a Book. I love reading and it's something I don't get to do enough of. I rarely get a trip to the bathroom alone let alone time to sit down and read. My goal for the summer is one fun summer book (suggestions are welcome!). Your kids can add this to their lists as well.
10. Visit your local zoo. We love Roger Williams Park Zoo. If you're in New England it's a great day trip! Check out our review coming up!.
I know I'll keep adding to this list over the next week but I love having a plan for a great summer. Working with your kids on a list is also a great way to include them with the planning (sneaking in even more family fun time!). Happy Summer <3
Disclosure: Mommy Makes Time receives products in order to conduct reviews. No monetary compensation was provided unless noted otherwise. All opinions are 100% my own. Some posts may contain affiliate links that I receive commission or payment from in exchange for referrals. In the event of a giveaway, the sponsor is responsible for delivery of the prize, unless otherwise noted in the posting. I only recommend products or services I personally use and believe will be a good fit for my readers. I am disclosing this in accordance with the Federal Trade Commission's 16 CFR, Part 225: "Guides Concerning the Use of Endorsements and Testimonials in Advertising