The following post may contain affiliate links, sponsored content or review. All opinions expressed are our own.
Save Time and Money while You Earn With Dealspotr
I'm a busy mom. I work full time and still need to find time to get everything my family needs. Most moms are on a budget. We are saving for things or just trying to make ends meet. Every mom I know is on a mission to save money for their family. There are so many ways to save and I'm a huge fan of using coupons to save. It's a great way to save money on things you are going to buy anyway and who doesn't want to save.
Finding deals and coupons online can be tricky. There are tons of sites out there claiming to have great coupon codes and weeding through them can be time consuming. Our time is precious so finding a site that checks the coupons first is a huge plus in my life. Dealspotr.com is my go to for coupons, coupon codes and deals. Since launching one year ago, Dealspotr has saved shoppers over $15 million. They are viewed by over 2 million shoppers per month, and they are one of the fastest-growing deal sites so you know they have a deal on almost anything you could want.
Navigating Dealspotr is easy! I achieved silver status right away and started earning gift cards just by sharing deals. Yes that's right. You can earn points for sharing deals. These points turn into gift cards really easily. I love sharing deals with moms I know and Dealspotr gives me ample opportunities to share deals. You can earn extra points with the daily tasks on your dashboard. They are simple tasks like sharing deals with other members on Dealspotr. I've used my points for Amazon gift cards to buy anything and everything I need for my family.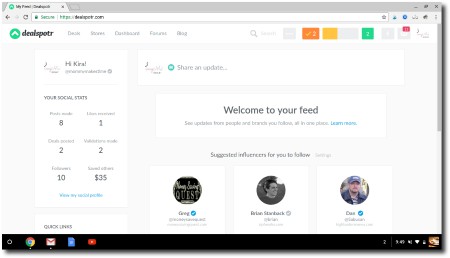 I love the way the site is set up. There is no complicated searching for codes that you want. You can even customize your deal feed to show things you're interested in buying. Deals are categorized by type so it's easy to find what you're looking for. The deals and codes are rated so they let you know right away if they are working. This eliminates the frustration of getting all the way to checking out only to find your code isn't working. You can see the deals and codes that are trending and what people are using. These are great codes for brands and stores you actually want to shop at. Name brands like Best Buy, Starbucks, Amazon and hundreds and hundreds more.
You can link up your social media sites to make sharing even easier. You'll earn points for sharing on your social media feeds which equals quicker gift card redemption. I'm well on my way to another gift card and it hasn't taken me very long. I've tried earning gift cards on other sites and there are always so many hoops to jump through. I know I get frustrated and give up. Dealspotr makes it easy and there are no hoops to jump through. No crazy programs to sign up for. No spam in your email (huge bonus). Just simply share deals and save money. Can't get any simpler than that!
I really have enjoy using Dealspotr for shopping online. With Father's Day coming up I was able to save money on gifts for my husband and my dad. Saving money allows me to spend it on other things and save for a much needed family vacation! Head over to Dealspotr.com and give it a try. You'll see first hand how simple and easy it is to not only save money with coupons and deals but to earn money! It's like shopping for free!!
Disclosure: Mommy Makes Time receives products in order to conduct reviews. No monetary compensation was provided unless noted otherwise. All opinions are 100% my own. Some posts may contain affiliate links that I receive commission or payment from in exchange for referrals. In the event of a giveaway, the sponsor is responsible for delivery of the prize, unless otherwise noted in the posting. I only recommend products or services I personally use and believe will be a good fit for my readers. I am disclosing this in accordance with the Federal Trade Commission's 16 CFR, Part 225: "Guides Concerning the Use of Endorsements and Testimonials in Advertising