Whether you are going on a cruise to celebrate a big wedding anniversary, your honeymoon or just as a treat to your partner and yourself, here are our top seven tips to make your cruise experience extra special and extra memorable.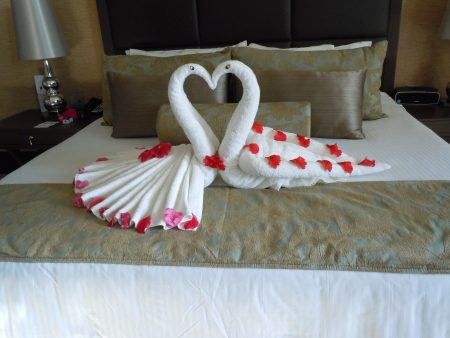 Do Your Research
Before you go ahead and book anything, make sure that you put in some research to find the best package and deal available for you and your partner. Think about the places that you would both really like to travel to and think about the type of features that are really important to you when you go on holiday and then look for the best cruises that suit your wants and needs.
Go for a reputable cruise liner with really positive reviews to make sure that you are choosing a top-tier cruise liner and you won't be disappointed. If you are looking for a river cruise, then book Viking River Cruises with Bolsover Cruise Club or similar companies that specialize in the type of cruise you are looking for.
Go For An Upgrade
If you are celebrating a big anniversary and want your cruise holiday to be extra special then why not upgrade your room to one of the best on the ship. A windowless, internal cabin doesn't really scream romance and luxury, so look into the rooms where you can really splurge on an all singing all dancing sumptuous suite. The top tier rooms, that boast everything from balconies to Jacuzzi baths, may set you back quite a bit more than the most standard rooms, however they will promise to fill your once-in-a-lifetime trip with extra wonderful memories.
If you want the top rooms, but don't quite have the budget, you may want to consider being flexible on your dates. So look into how much cheaper you can get the luxury suites for when travelling around the non-peak season, and then weigh up how important it is when you travel versus how important your budget is.
Decorate The Room
Why not surprise your spouse by decorating your room, ready to wow them upon arrival. Cruise Liners offer additional services for honeymooners and people celebrating their anniversaries, to make sure that your room is looking particularly fantastic for that all important wow factor when you open the door. Contact the cruise liner, before your trip, to talk through the different options available for you upon your arrival at your chosen cruise ship.
In-Cabin Surprises
You don't just have to leave it there. If you are wanting to really treat your spouse on your cruise holiday why not sprinkle another couple of surprises throughout your trip. You can arrange with the staff a whole range of in-cabin surprises so have a think what your partner would really appreciate. Perhaps you think they would love to find a chilled bottle of champagne waiting for them in the room, after a long day of sightseeing. Or perhaps you want to organise a fruit basket to be delivered as little mid-week treat.
In-Port Activities
The treats you organize on the ship, are not the only way to ensure your cruise is a memorable holiday together. You should also be thinking about the little details you can add for the time that you are off the boat too. By putting in a little research and forward planning, into the destinations that you are going to be travelling to, you can be actively preparing special activities, adventures and indulgences in every part of your trip.
Thinking ahead about where you are going works really well when you consider the sorts of things your partner would really enjoy. Perhaps they are culture vultures so you can research the best galleries to visit on your destination itinerary. Or maybe your partner is a real gastronomy lover and you want to treat them to a top meal in a top restaurant in one of the cruises destinations. Restaurants with fantastic views, organised at sunset are incredibly romantic, so really look into the details on how you can organize a truly unforgettable dinner.
You may also want to research the top things to do at the places that you are going to visit. It is so easy to follow the crowds and then feel like perhaps you are missing the best bits. So think ahead to the unique activities, most beautiful views or the most interesting sights and then head off and do your own thing to create your own unique day.
Romantic Dinner
The cuisine available on cruises is of a very high level, so there will be ample opportunities for you and your loved one to enjoy many wonderful and tasty meals. However if you are wanting to create a truly romantic meal why not consider hiring someone to come and serenade you as you dine? Or maybe your partner has a favorite meal and you want to put in a special request with the chef- it can't hurt to ask now can it. Chefs on cruise liners are generally used to catering for a wide variety of weird and wonderful requests so don't be shy to ask for something that you or your partner would really enjoy. Perhaps you want to arrange a cake or special dessert for your wife or husband, in which case, again, that can be organised with one very simple conversation with the restaurant staff.
Get Your Finest Threads Out
There is not much point pulling out all the stops if you're not looking or feeling the part. Therefore make sure you bring one or two really special dresses and suits to make sure you can really enjoy getting dressed up and feeling like a million dollars. To make sure your partner feels suitably fabulous perhaps you could even treat him or her to an afternoon in the spa, hairdressers or treat them to a relaxing massage, facial or manicure and pedicure. Then when the evening comes have their favorite outfit awaiting them and whisk them away for an evening of pure romance and celebration.
Disclosure: Mommy Makes Time receives products in order to conduct reviews. No monetary compensation was provided unless noted otherwise. All opinions are 100% my own. Some posts may contain affiliate links that I receive commission or payment from in exchange for referrals. In the event of a giveaway, the sponsor is responsible for delivery of the prize, unless otherwise noted in the posting. I only recommend products or services I personally use and believe will be a good fit for my readers. I am disclosing this in accordance with the Federal Trade Commission's 16 CFR, Part 225: "Guides Concerning the Use of Endorsements and Testimonials in Advertising