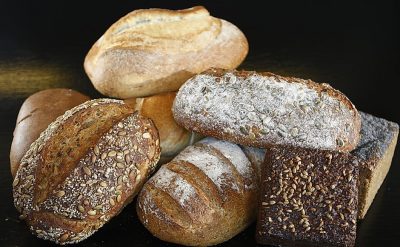 Bread is a staple food that brings comfort and joy to those around the world. With such simple ingredients, it's amazing what can be created in terms of flavour, and with so many varieties, there's sure to be more than one favourite in your household!
Although some eating plans treat bread as a 'bad food', it is simply a case of eating it as part of a healthy diet and in moderation. If you commit to eating only the best breads – made with care and attention – then a little will go a long way. Great ingredients, proving techniques and baking are key to a beautiful flavour.
Here's our guide to the wonder of bread…
Popular Types of Bread
The classic loaf of bread comes in white, wholemeal and seeded, usually baked using flour, salt, yeast, olive oil and water.
Other types of bread include:
Sourdough – made from the natural occurring yeast and bacteria in flour. Less likely to affect those with a gluten intolerance.
Pita – a soft, pocket flatbread made from wheat flour. Also known as Lebanese, Arabic or Syrian bread.
Naan – a smooth and elastic dough is made using white flour, yeast, salt and yoghurt. Very popular with Indian dishes.
Focaccia – Similar in style and texture to pizza dough, focaccia is a flat oven-baked Italian bread product usually topped with herbs.
Bagel – originating from Jewish communities in Poland, this bread is traditionally shaped into a ring. Made from yeasted wheat dough, that is boiled first before being baked.
Tortilla – of Mexican origin, the tortilla is a type of flatbread made using finely ground wheat flour. Perfect for fajitas!
Rye – a dark and dense bread made from rye flour. Usually baked at a low temperature over long periods.
Banana – a sweet and cake-like bread made with mashed bananas, self-raising flour, butter, sugar and eggs.
Soda – traditionally from Ireland, soda bread is made with buttermilk, self-raising wholemeal flour, plain flour, bicarbonate of soda and salt. One of the easiest breads to make by hand.
Bread related Kitchen Accessories
Some key items to have in a kitchen for bread lovers includes the humble bread bin. A safe place to keep your store-bought or homemade breads so that they stay as fresh as possible, plus, some of them are seriously stylish! Places like notonthehighstreet and Wayfair have some lovely designs, whether you contemporary or vintage in style.
Also, to make life easier for yourself, you can opt to buy a bread maker so you don't have to do all the kneading. There's key features to look out for when buying a bread maker, including loaf sizes – most machines come with three but if you go for a compact model, this could just be two.
Those who are gluten-intolerant can find a maker with a program for bread mixes that are gluten-free. There's also cool features such as timer delays, a seed dispenser (to drop seeds at just the right time!), and even croissant dough settings.
As well as the toaster – the staple of bread accessories – there is also the toaster oven, which combines the ability to toast a mean bit of bread as well as baking a lovely loaf, with the functionality of cooking so many other things such as English muffins, baked potatoes and even a small chicken!
Clear some space in your kitchen and get ready for toasted perfection! Groom and Style has a rundown of the best toaster ovens to get you on the right track.
Yummy Bread Recipes
If you've never attempted baking bread, don't be too shy! It's not as hard as you might imagine. To start with, this easy recipe for white bread from BBC Good Food will spark your love for home baking. All it takes is five ingredients and 20 minutes of prep time.
The bread god that is Paul Hollywood has an excellent recipe for soda bread. Paul says, "If you have kids, do teach them how to make soda bread, because it's great to be able to put a loaf on the table within 45 minutes." An Irish classic.
There's something very decadent about English muffins. Perfect for breakfast, or as a treat for yourself. This recipe from Jamie Oliver makes 12 to 14 muffins and can be made in less than an hour.
For something on the sweet side, Delia Smith's recipe for bread and butter pudding includes some whiskey-soaked raisins. This recipe favours the use of panettone but normal bread can be used too. She also has a recipe for 'perfect toast' here – intriguing!
Disclosure: Mommy Makes Time receives products in order to conduct reviews. No monetary compensation was provided unless noted otherwise. All opinions are 100% my own. Some posts may contain affiliate links that I receive commission or payment from in exchange for referrals. In the event of a giveaway, the sponsor is responsible for delivery of the prize, unless otherwise noted in the posting. I only recommend products or services I personally use and believe will be a good fit for my readers. I am disclosing this in accordance with the Federal Trade Commission's 16 CFR, Part 225: "Guides Concerning the Use of Endorsements and Testimonials in Advertising