The countdown to the summer holidays will almost be over, and soon it will be up to you to keep the kids entertained and busy every day. However tempting it may be to let television and their electronic devices take charge, you know it would be best if they got a little fresh air. The really difficult part will be keeping these activities cheap. It won't be easy, especially if you have to work at some point, but it's not an entirely impossible task. Here are a few suggestions to help you keep the kids occupied on a budget.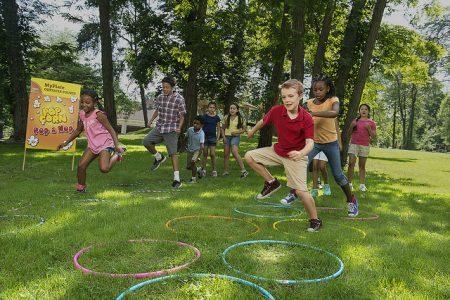 Set up a tournament in the garden
Children and adults alike can take part in the a game of badminton, soccer, or volleyball in an effort to win a trophy. Adults can play with a handicap to even the playing field for younger children, but everyone will have fun in the comfort of your backyard. All the adults could also take turns encouraging a future Tiger Woods to practice their swing, or introduce a new generation to an old game. Once the tournament is over, hand out trophies and celebrate with healthy snacks.
Mini shopping spree
Kids like being taken out to the shops a time. If you manage to keep them out with you for most of the day, then this also counts as good exercise. Giving the kids their own spending limit will also teach them a little financial responsibility, and encourage them to practice their basic maths skills. At the end of the day, if they've stuck to their budgets and been generally well-behaved, surprise them with a treat of your own. This could range from a trip to the movies, some new clothes bought with Childrens Place coupons, or a small bag of candy.
Family night
You don't need to go to a movie and eat out at Chuck E Cheese to have a fun family night. Make some popcorn and set up the living room to look like a movie theater while the younger kids pick out a film. If the weather allows, you could cook dinner on the grill, make a small campfire, and tell age-appropriate ghost stories around the fire. You could complete the campfire experience by setting up some tents in the garden and having a family campout.
Explore nature
Introduce your kids to the simple thrill of climbing to the top of a really tall tree. Brush up on some simple survival skills and spend a day in the woods teaching them how to survive in the wild. Or just spend a relaxing afternoon by a river, having a picnic, and feeding the ducks.
Be a tourist
Get reacquainted with your town this summer by exploring all the tourist attractions. Find out about local events and markets – most towns and villages have their own website full of local information. Wander through the main street and challenge your kids to spot the oldest building by their date stone.
Disclosure: Mommy Makes Time receives products in order to conduct reviews. No monetary compensation was provided unless noted otherwise. All opinions are 100% my own. Some posts may contain affiliate links that I receive commission or payment from in exchange for referrals. In the event of a giveaway, the sponsor is responsible for delivery of the prize, unless otherwise noted in the posting. I only recommend products or services I personally use and believe will be a good fit for my readers. I am disclosing this in accordance with the Federal Trade Commission's 16 CFR, Part 225: "Guides Concerning the Use of Endorsements and Testimonials in Advertising