Summer is here! Well, nearly, depending on where you live. But the change in weather gives us more opportunities to spend some time with the kids outside, on the beach, or just in the back garden. We all love a barbecue, and it's the perfect opportunity to get friends and relatives over and enjoy the sunshine, but what about those that don't eat meat? It can be a pain for vegetarians or vegans, they can feel left out, but here is a great veggie recipe for the perfect veggie barbecue.
Bean & Carrot Patty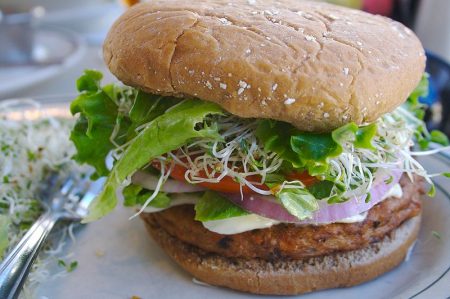 The great thing about this recipe is the smoky flavor you can get into the patty. You know that it's not the same if you're trying to be veggie friendly in a barbecue by making some veggie burgers, but they don't have the same charcoal-y feel to it, do they? An electric smoker has been my lifesaver for this, and friends have commented on how authentic a simple veggie burger has been. And I could never go with a different brand after seeing this, I must say, because the versatility of a smoker has pepped up every meat and meat-free meal ever since!
Ingredients
1 chopped onion
1 tablespoon of vegetable oil
2 crushed garlic cloves
200ml of vegetable stock
450g of chopped carrots
1 tablespoon of ground cumin
1 tablespoon of ground coriander
400g of kidney beans (tinned or fresh)
75g of fresh (whole-wheat) breadcrumbs
3 tablespoon fresh coriander, finely chopped
olive oil
salt & pepper to season
Instructions
Heat up the oil in a large pan. Then add the chopped onion. Sauté it for 2 minutes.
Add in the garlic, cumin, carrots, and coriander. Stir for 1 minute.
Pour in the vegetable stock. Season well with salt and pepper. Bring it to the boil.
Cover and simmer for around 10 to 15 mins, or until carrots are nice and tender. Leave it to cool.
Drain the liquid mash up the carrots.
Add in the kidney beans and mash again. Stir in the coriander and breadcrumbs. Mix it up well and add salt and pepper to your taste
.
Once the mixture has cooled down, divide the mixture into six portions. Get your hands wet and shape each piece into a burger sized patty (about 2.5cm thick). Put them in the fridge if you're not serving them right away.
Preheat the oven to gas mark 7 (425 degrees).
Spray or brush a small bit of olive oil on both sides of the patties. Place them on a preheated baking sheet.
Bake for 20-25 minutes, or until they are pale golden. Place in the smoker for an added smoky flavor (optional).
https://mommymakestime.com/2017/05/bbq-make-veggie-q/
copyright Mommy Makes Time
I'm constantly amazed by how many people love these patties, and they're so good for you. So I hope this sets you off on a veggie journey into barbecuing. So many people think that veggie food in a barbecue is boring salads, so let's make it more interesting for everyone!
Disclosure: Mommy Makes Time receives products in order to conduct reviews. No monetary compensation was provided unless noted otherwise. All opinions are 100% my own. Some posts may contain affiliate links that I receive commission or payment from in exchange for referrals. In the event of a giveaway, the sponsor is responsible for delivery of the prize, unless otherwise noted in the posting. I only recommend products or services I personally use and believe will be a good fit for my readers. I am disclosing this in accordance with the Federal Trade Commission's 16 CFR, Part 225: "Guides Concerning the Use of Endorsements and Testimonials in Advertising