Planning a child's birthday party is unlike any other party you could plan for. Children are, of course, very picky about almost anything. Whether it's a decoration, type of food, games or even presents they get, children can get very demanding. That's why it's essential that you don't skip out any components when planning a child's birthday party. To help you out, here's a list of things that you simply can't miss out when you're planning a party for your child or children.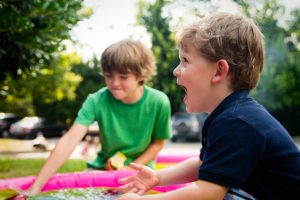 Finger Food
Don't try to create an elaborate menu that consists of food that has to be eaten with a knife and fork. Instead, focus your attention on finger foods that aren't too messy to eat and don't require extra utensils. Foods such as fries, chicken nuggets and biscuits are great to have out because they're simple finger foods that don't make much mess. The children can grab however much they want, put it onto a plate then continue playing or chatting with their friends. If you don't have finger food or if your entire menu is based around a set meal, then the children will be sitting around waiting for you to serve food. Instead, you can simply grill or put things in the oven, place them onto a plate and then serve it to the children—just make sure it's not scalding hot!
Invitations
Who's going to know who's birthday it is if you don't make invitations? Using an invitation maker is a quick solution on the design end. Make sure the date is clearly visible, perhaps include a bit of information about the meals your guests will be eating and try to have a list of people that you wish to invite. Just remember not to invite more people than you can physically fit in your venue. On the invitations, you may also want to put your contact information in case parents have questions regarding the food you serve.
Entertainment
Entertainment doesn't mean you need to have a clown, magician or someone juggling. Entertainment nowadays (at least, at a kids party) can take on a variety of different forms. For instance, you could set up a family-friendly gaming console such as the Nintendo Switch or Nintendo Wii U and have the kids play video games. You could also bring out a board game to play, and there's even the option of having a film on. Whatever you do, make sure you're planning entertainment ahead of time and always have a backup in case a piece of technology breaks.
Venue
Do you plan to host a party at home or at a venue? If you don't mind splashing out a bit of extra cash, you can actually get an all-inclusive venue for your child's birthday party and you won't even have to worry about food, dietary requirements or cooking. Since everything is hosted by the venue (including food) you'll have limited options, but it's much better than trying to sort out the logistics of hosting a birthday party without any assistance.
Disclosure: Mommy Makes Time receives products in order to conduct reviews. No monetary compensation was provided unless noted otherwise. All opinions are 100% my own. Some posts may contain affiliate links that I receive commission or payment from in exchange for referrals. In the event of a giveaway, the sponsor is responsible for delivery of the prize, unless otherwise noted in the posting. I only recommend products or services I personally use and believe will be a good fit for my readers. I am disclosing this in accordance with the Federal Trade Commission's 16 CFR, Part 225: "Guides Concerning the Use of Endorsements and Testimonials in Advertising