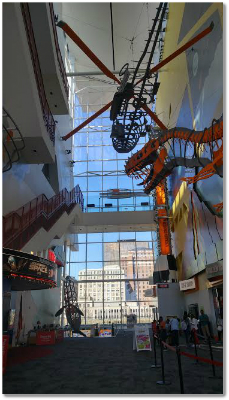 I love having fun with my family. Spending time together and making memories is one of the most important things in my world. Anytime we can sneak learning into our fun family time it's a win in my book. That is why I love Science Museums. They combine my love of all things science with a fun atmosphere kids can't get enough of.
We recently visited the Connecticut Science Center in Hartford, Connecticut for an amazing family day. I say day because with four different levels of exhibits an entire day here is filled with exploring. We walked in to amazing displays hanging from the six story ceiling and my kids were in awe. Science Alley features a life size whale, T-rex, Volcano and more. It's a great way to star learning and exploring!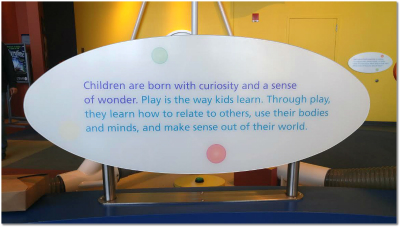 The first floor is where we spent a good portion of our day. KidSpace is a interactive room for kids under seven. You're kids will LOVE the interactive water play. I would suggest not starting there because it's very hard to get little kids to leave once they have started exploring and experimenting! They provide smocks to keep you dry but my kiddos were so excited they were already wet before we could get them on!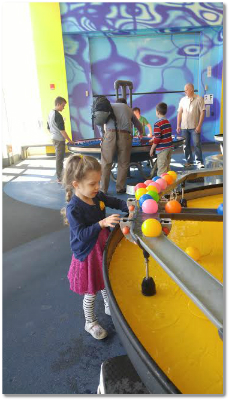 When we finally got the kids to explore more of the Science Center, we made our way to the fourth floor to check out the travleing exhibit: Engineering Earth.. The kids loved learning about the different types of rocks and soil that are used to build. This hands on exhibit was a lot of fun and I learned a lot about different construction techniques over time. Also on the Fourth Floor is Sight and Sound and Forces in Motion. We loved Sight and Sound. Creating different music with lights on the harp was amazing and all the interactive exhibits were fun to explore over and over. Forces in Motion was a lot of fun as well. We spent a lot of time moving beach balls around with wind power. The look on my son's face as he learned through trial and error was priceless.
On the fifth floor you'll find Exploring Space, Invention Dimension, Picture of Health and Sports Lab. My husband and Monster spent a long time in Exploring Space. His imagination blasted off as he played in a Lunar Lander with other children and learned about moon rocks. My lego and puzzle loving Lovebug had a blast in the Invention Dimension where we raced a robot to put together a puzzle and had some lego building time.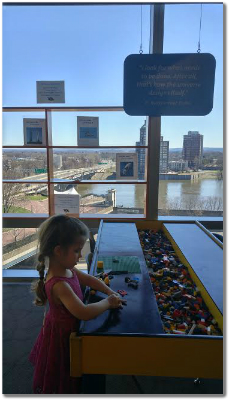 As my family explored I couldn't help but notice the amazing views from every display. There is even a rooftop garden (open seasonally) to take in these amazing views of Connecticut and the Connecticut River. With still more to see we took a break for lunch. There is a Subway next to the ticket counter and plenty of ample inside and outside seating if you choose to bring your own lunch. After our quick lunch it was time to head for the sixth floor.
We found the amazing Planet Earth exhibit when we first entered the sixth floor. It was full of fossils and even an interactive roaring dinosaur! We moved to the left of this exhibit to see a live animal presentation in the River of Life exhibit. We got to touch a rat snake and a bearded dragon while learning facts about animals. Did you know a hissing cockroach makes the hiss sound because of air pockets in it's shell? We do now! There were fish and other animals to look at in the display as well as lots of info about New England's largest river!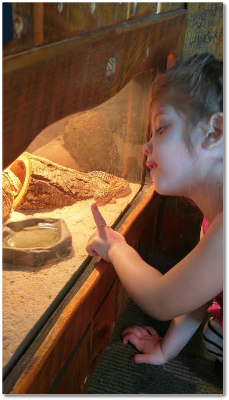 Also on the sixth floor was the Energy City exhibit. We spent a lot of time playing in the "garden" and energy efficient house. You can see which lights are more efficient and even conserve energy in the model home. It's a great display about conserving energy and reducing your carbon footprint!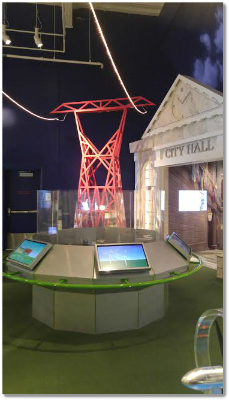 Our last stop was right back where we started…KidSpot. The kids loved every second of exploring the water and different water stations. Monster loved manipulating the water flows at one table while Lovebug loved playing with the lego "river" builder. Our time at the Connecticut Science Center was fantastic and I highly recommend it for a great family day trip.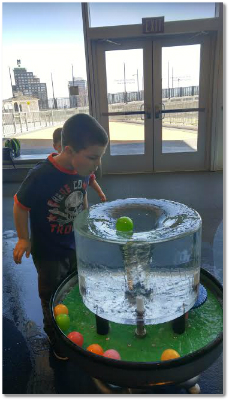 Our Tips for Your Trip
Arrive early to avoid the crowds. We got there right when they opened and it did not get busy until after lunch time.
There are elevators and the center is very stroller friendly so you can easily bring your stroller if needed.
You can bring your own lunch to save money or if you have diet restrictions. There is a subway that offers sandwiches, salads and pizza and a frozen yogurt place as well. There are plenty of seats outside if the weather is nice and some inside as well.
Plan to spend the whole day if you can so you can take advantage of all the amazing exhibits!
Check out upcoming events for fun activities held at the museum (including summer camps!).

Disclosure: Mommy Makes Time receives products in order to conduct reviews. No monetary compensation was provided unless noted otherwise. All opinions are 100% my own. Some posts may contain affiliate links that I receive commission or payment from in exchange for referrals. In the event of a giveaway, the sponsor is responsible for delivery of the prize, unless otherwise noted in the posting. I only recommend products or services I personally use and believe will be a good fit for my readers. I am disclosing this in accordance with the Federal Trade Commission's 16 CFR, Part 225: "Guides Concerning the Use of Endorsements and Testimonials in Advertising