Thank you to Coco Key Boston and The DoubleTree by Hilton for hosting our getaway. All opinions expressed are our own.
It's still freezing here in New England. Really freezing. Our weekend topped out at eight degrees with negative wind chills. As I sit here with the heat cranked waiting on the blizzard coming tomorrow thoughts of water fun seam far away. You don't need to wait for summer to enjoy all the fun of a water park with a getaway to Coco Key Boston!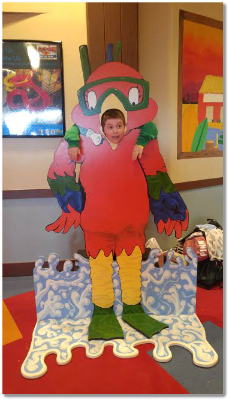 We arrived at Coco Key on a sub zero Saturday hoping for some fun in the "sun". We entered the building and grabbed our bracelets to get in. We hit up the locker rooms to change into our suits and rinse off. There were plenty of lockers to stash all of our winter gear (hotel check in is at 4pm but we wanted to enjoy the water fun early). With the kids jumping out of their skin we found a place to stash our towels and get wet!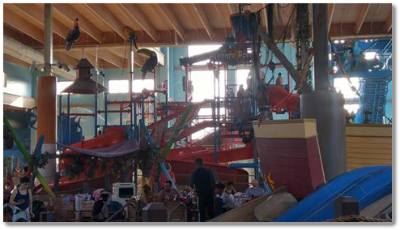 Lovebug doesn't love going under water so we spent most of our time at the Dip-In Theater area. This pool features a zero entry so your little ones can explore easily. With slides made for smaller guests (under 48 inches only). We had fun in the spray features and just splashing around together. There were lifeguards on duty everywhere making sure everyone was being safe and following the rules. I really appreciated how quick they were to stop any rowdy behavior, especially in the smaller pools.
Monster is an avid ride fan. He shares a love of adventure with his Mom and Dad. He enjoyed the small slides a few time but then he was off to the Parrot's Perch play area. Think of a massive jungle gym with water. He was climbing and splashing for hours. There are a couple of medium size slides that we couldn't get him off. I tried one and it was a blast. Watch out because every few minutes a giant bucket dumps hundreds of gallons of water on everyone in the area. We were drenched waiting to get on the slides.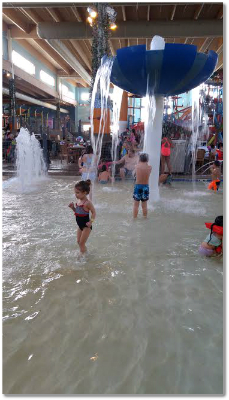 When the kiddos needed a break we spent time floating on tubes in the Coconut Grove Adventure River. It was a fun lazy river where you float around and relax. It's a great place to calm down from all the fun. Coco Key also features larger slides for the big kids and adults, a obsticle course, basketball pool and outdoor splash pad (open in the summer). If you're hungry you can check out Gator's Grab and Go for pizza, sandwiches and snacks. We grabbed some yogurt and grilled cheese for my picky eaters. Need to recharge the adult way? Visit the Wet Rooster Bar serving adult beverages and Starbucks.
We spent all afternoon at Coco Key before checking into the attached DoubleTree by Hilton Boston North Shore. The staff at the hotel were absolutely amazing. We were treated to cookies upon check in and shown to our room. The room was beyond amazing. The attention to detail was amazing. We entered our Family Suite and were treated to adorable towel pets. The kiddos were ecstatic to have their own beds and area. The beds were comfortable and the room was clean and spacious. Our room included a mini fridge and microwave which was a fantastic bonus.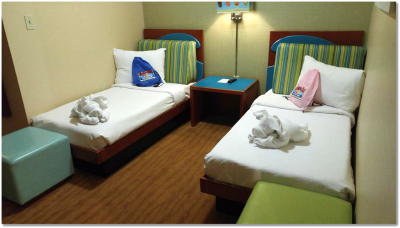 After a relaxing night, we had breakfast at the TradeWinds restaurant. The breakfast buffet was delicious with plenty of options from fresh fruit to waffles. Before we left we grabbed Starbucks at the coffee shop which made our drive home a little easier.
I would like to say a huge thank you to the staff at Coco Key and The DoubleTree. They were amazing, going out of their way to make sure our stay was everything we wanted and more. It was one of the best hotel experiences we have had traveling as a family and I highly recommend grabbing one of their water park overnight packages for a fun weekend!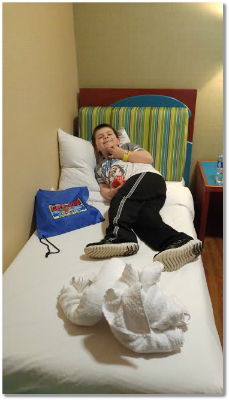 My Tips for Your Visit
Go early! We didn't get there until around noon and it was very, very busy. There were no tables left (you can reserve cabanas and tables for parties) but we found some chairs to set up on.
There is no outside food allowed so make sure you plan on meals there or prepare for dietary restricts. When in doubt call their friendly staff!
Plan on spending a lot of time there. We couldn't get the kids to leave without promises of coming back after checking into the hotel.
While day passes are available, you'll get the most for your money with an overnight package.
They have life vests available but if your child is more comfortable you can bring your own flotation devices.

Get Social With Coco Key Boston

Disclosure: Mommy Makes Time receives products in order to conduct reviews. No monetary compensation was provided unless noted otherwise. All opinions are 100% my own. Some posts may contain affiliate links that I receive commission or payment from in exchange for referrals. In the event of a giveaway, the sponsor is responsible for delivery of the prize, unless otherwise noted in the posting. I only recommend products or services I personally use and believe will be a good fit for my readers. I am disclosing this in accordance with the Federal Trade Commission's 16 CFR, Part 225: "Guides Concerning the Use of Endorsements and Testimonials in Advertising