Christmas by Candlelight
December 2-4, 9-11,16-18, 23, 3:00 pm – 9:00 pm
Explore the origins behind holiday traditions, see the historic Village decked out for the celebration, marvel at an elaborate nativity scene, and more!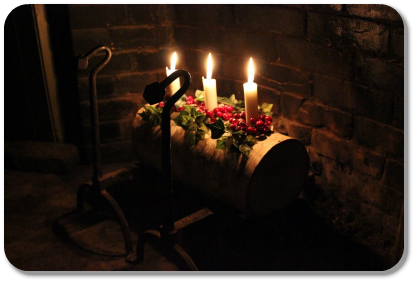 Old Sturbridge Village's 14th annual Christmas by Candlelight, held on Friday, Saturday, and Sunday evenings the first three weekends in December and an additional evening on Friday, December 23. Old Sturbridge Village transforms into an enchanted winter wonderland for this event that has become a popular holiday tradition, drawing nearly 20,000 visitors last year. Horse-drawn sleigh rides (snow permitting), carolers in costume, Christmas trees, yule logs, gingerbread houses, mistletoe, and sugar plums are all part of the enchanting display. While strolling through the candlelit Village, visitors can meet Santa Claus, join in a Christmas Carol sing-a-long, learn a period dance, listen to holiday music, and learn about holiday traditions of old. Visitors may vote for their favorite Gingerbread House among the dozens on display. Live performances include Victorian carolers, Punch and Judy puppet shows, a magic show, and five different holiday-themed readings. Throughout the night, various musical performances, including a wide range of professional, student, and community musicians, will set the festive mood.
Continuing a tradition begun in 2015, the Village will display a gigantic Christmas Tree, cut from a private donor's property and displayed outside the Center Meetinghouse in the historical Village. After the tree is adorned with hundreds of shimmering lights, guests will participate in a nightly lighting ceremony, making the tree a glowing beacon in the Village.
In addition, the Friends Meeting House will feature the beloved "Little Town of Bethlehem" Nativity Scene, with nearly 500 miniature pieces–some with moving parts. A nightly reading of the Christmas story from the Gospel of Luke will take place amidst the diorama.
NEW for 2016: North Pole Village
A section of the Village known as "Gallery Row" will be transformed into "The North Pole Village," complete with an all-new Santa Claus visit featuring a storybook walk-through based on illustrations from the 2016 Cider Mill Press publication of "The Night Before Christmas." Families will also interact with "Tinsel," a talking Christmas Tree designed by a student [Name?] of Jim Henson (famous for The Muppets). A new G-scale model train will whisk children through the outdoor displays. A children's hands-on craft center offers holiday workshops, while Mrs. Claus offers Christmas cookies and hot cider in the Bake Shop.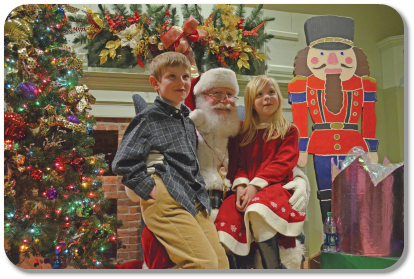 Origins of Holiday Traditions
Every night of Christmas by Candlelight, guests will explore the origins of New England's holiday traditions–including the Yule Log, roasting chestnuts, mulling cider, story telling and sleigh rides (snow permitting!). NEW this year, guests can visit the home of Bob Cratchit, the counting house of Ebenezer Scrooge, and a series of Christmas vignettes in the magnificent Salem Towne House. Each night features roaming carolers and holiday concerts in the Center Meetinghouse. A winter market around the annual roaring bonfire will offer warm beverages, wintry snacks, and holiday merchandise.
Tickets for Christmas by Candlelight are $22 for Adults and $14 for Youth aged 4-12; Children under 4 are FREE. An Early-Bird Discount for tickets purchased before December 1 provides a 15% discount for Friday and Sunday tickets, OSV Members receive 30% off. There is no early discount for Saturday tickets. Online ticketing is encouraged at on their site. The Museum Gift Shops, Oliver Wight Tavern Café and Bullard Tavern will be open for holiday shopping and dining during Christmas by Candlelight.
We will be visiting opening weekend and can't wait to see all the Christmas traditions. This will be our first holiday visit to Old Sturbridge Village for the holiday season but I can't wait to make it a yearly tradition!!!