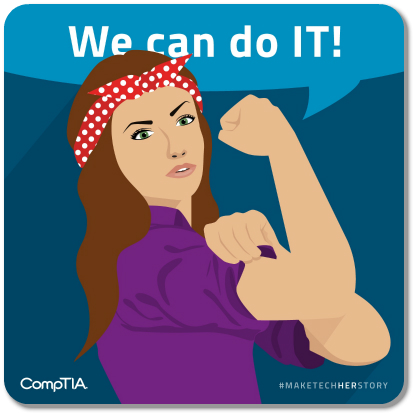 As a mom and an educator, I want my daughter and the girls I teach to have the best opportunity to be anything they want to be when they grow up. I think it's so important to encourage girls to love math, science and engineering from an early age and let them have a chance at whatever career they choose when the time comes. I love that CompTIA is working to help bring more women to the tech field!
Early interaction with technology, more information about job opportunities and support from parents and role models are among the actions that will encourage more girls to consider tech as a career option, according to CompTIA, the nonprofit association for the technology industry.
CompTIA today released Make Tech Her Story: What Needs to Change to Inspire Girls' Pursuit of IT Careers. The e-book and the companion website Make Tech Her Story are the centerpieces of a new awareness campaign to inspire tech industry leaders, educators, parents and, most importantly, girls to make the industry more gender inclusive.
"Achieving greater gender diversity in our industry requires major changes in the ways girls interact with and learn about technology," said Todd Thibodeaux, president and CEO, CompTIA. "It will take a concerted, collaborative effort and long-term commitment by parents and role models, teachers and counselors and, most importantly, industry mentors, who can convey their passion about working in tech to future generations."
More than 5.1 million people worked in core technology jobs in the U.S. at the end of 2015, but just 25 percent of those jobs were held by women.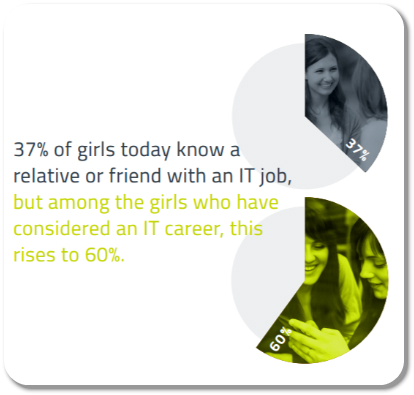 New CompTIA-commissioned research, based on a survey and focus groups of girls between the ages of 10 and 17, identifies several critical factors that discourage girls from considering careers in tech.
Parents play a key role in introducing technology – Girls and boys agree that parents and guardians are the primary source for finding out what IT stands for. But boys are more likely to begin using mobile devices at an earlier age, at five years old or younger, than girls (11 percent vs. 5 percent). Boys are also slightly more likely to explore the inner workings of tech devices out of curiosity (36 percent vs. 30% of girls).
Girls' interest in technology lessens with age – Nearly half of boys have considered a tech career, compared to less than one-quarter of girls. Among middle school girls, 27 percent have considered a career in technology. By high school this figure drops to 18 percent.
Tech classes aren't enough –Girls who have taken a technology class are only slightly more likely to have considered an IT career (32 percent). Less than half of girls who've taken these courses are confident their skills are right for the job.
Girls lack awareness about career opportunities – Of girls who have not considered an IT career, 69 percent attribute this to not knowing what opportunities are available to them. More than half (53 percent) say additional information about career options would encourage them to consider a job in IT.
Girls need role models in the industry – Just 37 percent of girls know of someone with an IT job. This rises to 60 percent among girls who have considered an IT career.

The free e-book is available at CompTIA.org. Check out this video below:

Disclosure: Mommy Makes Time receives products in order to conduct reviews. No monetary compensation was provided unless noted otherwise. All opinions are 100% my own. Some posts may contain affiliate links that I receive commission or payment from in exchange for referrals. In the event of a giveaway, the sponsor is responsible for delivery of the prize, unless otherwise noted in the posting. I only recommend products or services I personally use and believe will be a good fit for my readers. I am disclosing this in accordance with the Federal Trade Commission's 16 CFR, Part 225: "Guides Concerning the Use of Endorsements and Testimonials in Advertising