THE ILLNESS OF FOOD ADDICTION AND POSSIBILITY OF RECOVERY: Useful for Anyone Worried About Their Eating Habits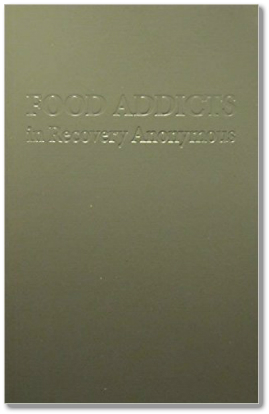 About the Book
Food Addicts in Recovery Anonymous is a new book that provides a thorough, readable description of the illness of food addiction and the process of FA recovery. "YOU WONDER. What's a food addict?! How can anyone be addicted to food? We all have to eat. Perhaps the term sounds extreme. No, you think, even if I lose control sometimes, I'm no addict. Yet there's something to the words food and addict that has made you pause."
Food Addicts in Recovery Anonymous describes the possibility of long-term, continuous recovery from food addiction offered by Food Addicts in Recovery Anonymous (FA), a program based on the Twelve Steps pioneered by Alcoholics Anonymous. The book begins with a description of the experience of food addiction and its symptoms, which can include obesity, extreme thinness, bulimia, exercise compulsion, or a normal weight maintained at the expense of debilitating obsession.
Most of the book consists of individual accounts of food addiction and FA recovery, some from members with over thirty years of sustained, one-day-at-a-time success. The volume includes a doctor's perspective, a chapter for family and friends, and a discussion of each of the Twelve Steps.
My Thoughts
This is a very personal subject. Food addiction, like any addiction, is a subject that not many people know about. I didn't really understand that food addiction is a very real disease and can cause problems in many people's lives. Furthermore, this could be the reason many people can't find lasting weight loss or the ability to lead a healthy lifestyle. Looking at your weight problems from a different perspective is something that I can definitely benefit from.
If you've ever struggled with your weight or your relationship with food, this might be a great subject to look into. You can can purchase a book Food Addiction website. This site also has great information on Food Addiction and finding help. You can even look into meetings and support. If you're looking for a change this may be the answer you are looking for.
Curious to see if this might be something you need? Answer these simple questions.
Disclosure: Mommy Makes Time receives products in order to conduct reviews. No monetary compensation was provided unless noted otherwise. All opinions are 100% my own. Some posts may contain affiliate links that I receive commission or payment from in exchange for referrals. In the event of a giveaway, the sponsor is responsible for delivery of the prize, unless otherwise noted in the posting. I only recommend products or services I personally use and believe will be a good fit for my readers. I am disclosing this in accordance with the Federal Trade Commission's 16 CFR, Part 225: "Guides Concerning the Use of Endorsements and Testimonials in Advertising