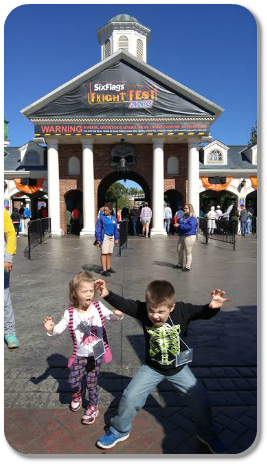 Are you looking for some family fun this Halloween? We love Halloween and all things Halloween related but it can get a little scary for younger kids. It's hard to find a great Halloween event that is fun for the whole family. When you find the perfect balance it's Halloween Magic!
We were invited to check out the opening of this years Fright Fest at Six Flags New England. My monster is a huge fan of thrill rides and already has his own season pass to Six Flags. He's been a few times this year and it's great "Daddy time" that he can enjoy. We weren't sure how much Lovebug was going to enjoy rides so this was her first trip. Well, she is a daredevil at heart and we will be making many repeat trips to Six Flags next season.
Their annual Fright Fest kicked off last weekend with all the terrifying bells and whistles! Pumpkins, spiders and skeletons are "hanging" around to give Six Flags it's creepy makeover. I love that it is totally ready for family fun before 6pm. The park is decorated for Halloween but not in a way that would terrify my three year old. During the day you will find:
Thrills By Day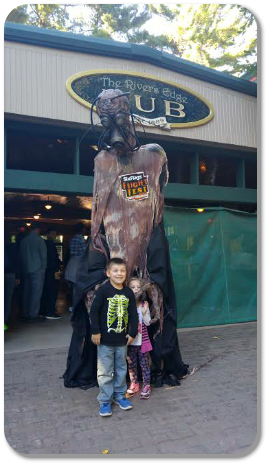 GRAVEYARD GROOVE
An array of monsters are unleashed from their tombs in this live singing revue filled with petrifying parody, dance, and hit music to get your blood pumping and feet jumping! Location: Rockville Theater.
MAYHEM MISSION
The lab is brewing with our Ghoulish Gameshow as brave souls are sought to bring the master plan to life. Join our Scientists for plenty of hands-on excitement and horrifying hilarity in this family show! Saturdays, Sundays & Columbus Day. Approximately 25 minutes long.
SPOOKTACULAR STREET PARTY
Get your ghoulish groove on with our creepy crew as they dance to classic Halloween tunes during the Spooktacular Street Party. Approxiamtely 15 minutes long. Location: Main St. Gazebo Saturdays, Sundays & Columbus Day Only.
TRICK OR TREAT TRAIL
Younger Guests embark on a journey and find great prizes & sweets. $1 donation benefits Six Flags Friends.
FRIGHT RIDES
Be sure to take a screaming spin on the Fright Rides including: TERROR TWIST (Tea Cups), VOODOO VORTEX (Kontiki), RAGE IN THE CAGE (Bumper Cars) and LightmosFEAR at the Pandemonium ZOMBIE COASTER!
Fright by Night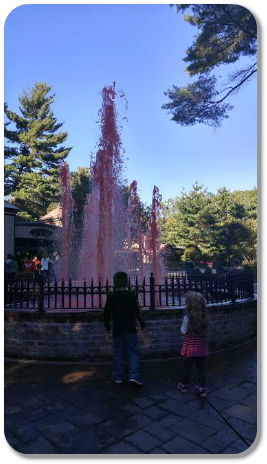 If you're looking for something more terrifying stay in the park past 6pm for their "Fight by Night" segment of Fright Fest. I loved that they gave warning repeatedly throughout the day so we were ready to leave before the kids had to see anything scary. Staff readily gave us a heads up and announcements were made as 6pm approached. Perfect for a family fun day without a shock at the end. Night time terror includes:
CREEPSHOW FREAKSHOW
Witness real live feats of danger and disgust performed by the Calvacade of the Odd.
NEW – DANIEL GREENWOLF: CELTIC MAGICIAN
Combining Celtic storytelling, a quick Irish wit, daredevil feats, fire and mind-boggling illustion, this show gets the entire audience involved.
DEMON DISTRICT
This abandoned warehouse district looks pretty harmless, mostly old and dilapidated…. except when the sun goes down.
MAIN STREET GRAVEYARD
Creeping caution is required as you enter the park through our crypts and graves.
MIDNIGHT MANSION
A dreaded curse lays over the mansion whose master was tragically murdered… You are invited to his final party!
MORTS USED COFFINS
Tombstone Terrortory's resident salesman is having a moon light madness sale & the only good customer is a dead one in this ruthless riot, morbid and maniacal show!
SHOWDOWN AT TOMBSTONE TERRORTORY
Legend has it that many moons ago, the Bandit Brothers were wrongly executed and they return to haunt Tombstone Terrortory every Halloween.
SLASHER CIRCUS 3D
Brave souls dare to enter the Big Top with sinister clowns on the hunt. Roam through this 3D attraction with killer clowns and terrifying effects.
THE AFTERMATH: ZOMBIE'S REVENGE
Hells Gate Park has fallen to the recent zombie uprising. Your mission is to survive the journey through this nature refuge. Hunt or be hunted!
THE AWAKENING
Mayor Slayer arrives to reign over Fright Fest and calls forth demons, monsters, ghosts, and ghouls to join him in celebrating nightfall
NEW – THE FORGOTTEN LABORATORY
Traverse through this haunted laboratory where scientists are conducting their latest experiments as they gather research and data.
TOMBSTONE TERRORTORY
A curse came over the Western Territory causing ghosts and zombies to rise and roam the streets of this Ghost Town each Halloween season.
UNDEAD ALLEY
This is the site where Mayor Slayer emerged to reign over Fright Fest. Zombies freshly unearthed from their graves roam the deserted graveyard.
VERDICT OF SORCERY
The town finally has the mysterious Abigail Dickenson in their capture. Witness justice as she is brought to trial for acts of sorcery and witchcraft, but only if you can bear to watch the power of the blade
WICKED WOODS
Take a terror trip through the haunted trails of Happy Valley where the dead never rest. Crazed creatures await your tour.
We enjoyed a great day full of family fun. Rides were a blast and there were plenty of rides for Lovebug to enjoy. The kids loved being able to Trick or Treat and even participated in the Spooktacular Street Party! You can buy tickets and season passes in advance on their site and save time at the gate! Happy Halloween!!
Get Social With Six Flags New England
Facebook
Twitter
Instagram
Disclosure: Mommy Makes Time receives products in order to conduct reviews. No monetary compensation was provided unless noted otherwise. All opinions are 100% my own. Some posts may contain affiliate links that I receive commission or payment from in exchange for referrals. In the event of a giveaway, the sponsor is responsible for delivery of the prize, unless otherwise noted in the posting. I only recommend products or services I personally use and believe will be a good fit for my readers. I am disclosing this in accordance with the Federal Trade Commission's 16 CFR, Part 225: "Guides Concerning the Use of Endorsements and Testimonials in Advertising