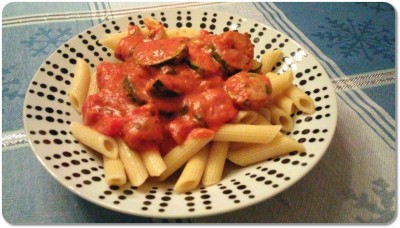 I love sausage and peppers. It's one of those amazing comfort foods I grew up on and really can have anytime. The smell of the peppers cooking just brings back fond childhood memories of family dinners. The meal itself is delicious and versatile. You can do sausage and peppers over pasta, rice or even on a sub (or grinder if you're in New England). It's up to you and how much you feel like cooking that night. What I don't love is all the fat and calories that goes with a traditional Italian style sausage. In my attempt to "lighten up" this year, I'm redoing some of my favorite recipes in a lighter fashion.
Chicken Sausage and Peppers
Ingredients:
One package of chicken sausage (many brands out there so use what you like)
2 cups of chopped sweet peppers
1 cup of chopped onions
1 cup chopped zucchini
1 Tbsp olive oil
1 Tbsp chopped garlic
salt and pepper to taste

I've added crushed tomatoes to make it more sauce like for over pasta!
Start by chopping all your veggies into similar size pieces and your sausages into circles. Start heating the olive oil in a large saute pan. Saute veggies with the chopped garlic until they are soft and browning. Add the sausage and saute until browned. I buy the pre-cooked chicken sausage so it doesn't take as long. If you buy raw you will have to cook longer.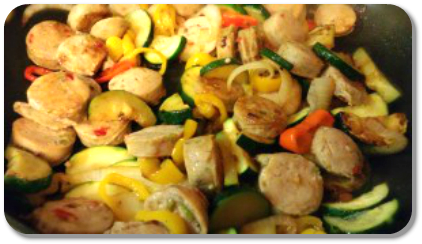 Pair with anything you'd like to create your own unique meal. I've paired my saute with high fiber pasta for the added health benefit! Leftovers will be great on a roll for lunch tomorrow!