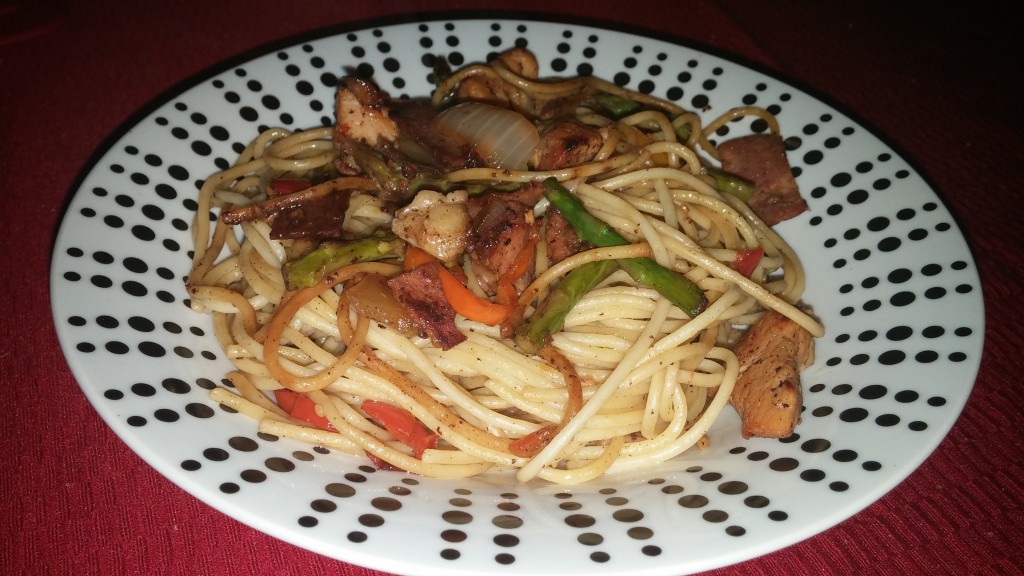 I love this recipe. I feel like I'm indulging without all the guilt. It's full of veggies and soooo good for you. I use extra fiber pasta to add to the health benefits. You can change up the veggies to your taste and make the dish your own. This dish is a quick and healthy weeknight meal.
Ingredients
1 lb chicken breasts cubed
3 pieces of turkey bacon chopped
3 Tbsp olive oil
2 Tbsp chopped garlic
1 can of quartered artichokes
1 bunch asaragus
1 red pepper
1 yellow pepper
1 red pepper
1 small white onion
salt and pepper
1 box spaghetti cooked and drained
2 additional Tbsp of olive oil
Instructions
Heat oil on medium heat in a large skillet (the deeper the better). While oil is heating cube chicken and chop turkey bacon. Add to pan.
While the chicken and turkey bacon is cooking, chop all remaining veggies to similar sizes. Once chicken is almost cooked through and turkey bacon is starting to crisp, add veggies to the pan.
Cook until veggies are tender. Add the cooked and drained pasta to the pan with veggies and chicken. Toss to coat. Add additional oil if needed. Salt and Pepper to taste.
I love serving with grated Parmesan cheese.
https://mommymakestime.com/2015/02/chicken-artichoke-pasta/
copyright Mommy Makes Time