Traveling with children can be both challenging and rewarding. Seeing more of the world with little ones in tow can be expensive, tiring, and frustrating, but it's also an opportunity for family bonding and a chance to make memories. Studies also show that children who travel typically achieve higher grades and take on more responsibility in their lives. Consider these stellar spots when planning your next family vacation.
York City: Soak Up the Culture
The thought of putting your brood in the middle of busy New York City might fill you with dread, but this city offers so many cultural experiences that all families should visit it at least once. See some shows on Broadway before browsing through the iconic pieces at the Guggenheim and the Museum of Modern Art. Children also love the butterfly conservatory and Hayden Planetarium at the American Museum of Natural History and the interactive exhibits at the New York Hall of Science.
Admissions to all those attractions can add up, but you can offset the costs by using Priceline discount coupons. You can like the Priceline Coupons for Good page on Facebook to ensure that you never miss a deal.
Yellowstone National Park: Get Back to Nature
Yellowstone is America's first national park, so it's an excellent choice for families wanting to escape traffic and technology and reconnect with nature.
Your kids will love the geysers, which shoot steam to the sky and glow with iridescent colors. Yellowstone has the highest concentration of geysers on the planet, so there's plenty for families to see.
Bring your binoculars and cameras, because Yellowstone is also home to a majestic array of animals. Kids will love spotting bison, bears, wolves, elk, and a wide variety of birds in their natural habitats.
Boston's Freedom Trail: Learn More About America's Past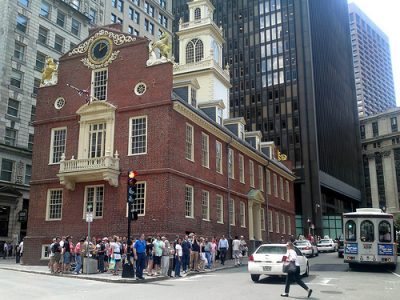 There's an old saying: you need to know where you came from to understand where you're going. However, many American kids aren't in touch with their heritage. Enhance your kids' classroom history lessons with a trip to Boston's Freedom Trail
.
At 2.5 miles, it's an easy walk for most kids. There are also many attractions to admire along the way that help to break up the journey, such as the Granary Burying Grounds, the site of the Boston
Massacre, and Paul Revere's House. Quincy Market Colonnade, which you can visit along the way, is ideal for satisfying your rumbling tummies. It's the largest food court in New England, so even the pickiest eaters should find something they love.
Hawaii: Experience a Different Way of Life
Visiting Hawaii is one of the easiest ways for your children to experience another culture without traveling too far from home. Make sure to eat at a luau, take a hula workshop, and visit the Polynesian Cultural Centre on Oahu's North Shore to give your kids a taste of the true Hawaii.
Hawaii might be close to home, but those family flights can still bite. Browse for Expedia coupons to secure the travel rates you're looking for. Follow the Expedia Coupons for Good Facebook page to stay updated on new deals.
With opportunities for your children to learn and have fun, these stellar vacation spots can't be beaten.
Disclosure: Mommy Makes Time receives products in order to conduct reviews. No monetary compensation was provided unless noted otherwise. All opinions are 100% my own. Some posts may contain affiliate links that I receive commission or payment from in exchange for referrals. In the event of a giveaway, the sponsor is responsible for delivery of the prize, unless otherwise noted in the posting. I only recommend products or services I personally use and believe will be a good fit for my readers. I am disclosing this in accordance with the Federal Trade Commission's 16 CFR, Part 225: "Guides Concerning the Use of Endorsements and Testimonials in Advertising